The word cheap should not mislead you, the value for money of our solar heated showers is enviable. They are all designed in Italy and their supply chain has been controlled right up to their delivery to the end customer.
Ideal as economic garden showers, or pool showers.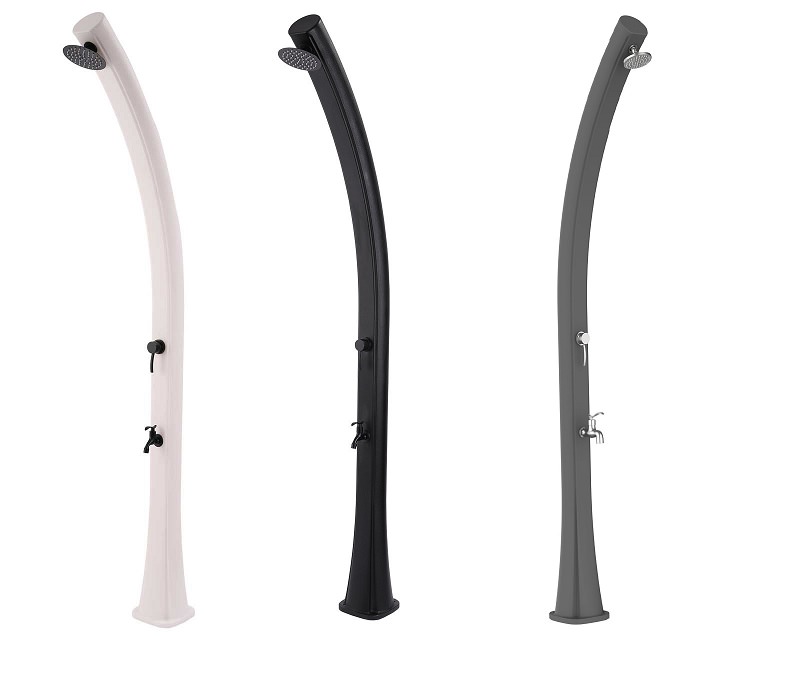 The whole series comes complete with
- 22 litre water tank
- Height 220 cm
- Base diameter 20x20 cm
- Foot wash tap
- Round shower head diameter 15 cm 6".
- Brass accessories
- Drain plug
- High quality mixer cartridge
- Recommended water pressure 3,5 bar
- Internal hoses 12 kg pressure
- Weight 7,7 kg
Please note that a darker colour will heat much sooner and at a higher temperature than a light colour.
You won`t find a solar heated shower with this price and technology!Some advice
Leaking water from the shower head after turning off the shower tap is not a defect but a technical requirement!
A solar shower is not a closed system. If there is a demand for hot water, cold water enters the tank from below through the valve, pushing out the hot water already in the upper part of the tank.
The entire shower body is filled with water and acts as solar heating.
The pressure formed as a result of the heating can escape from the shower head.
Dismantling at the end of the season
During the winter, the shower must be COMPLETELY drained of its water content. In addition, the shower must be dismantled and stored in a dry place during the winter.
Failure to observe this warning may result in frost damage to the product.
Frost damage is not covered by the warranty.
1) Close the shower and remove the garden hose.
2) To drain the shower, turn the mixer back to the "HOT" position (approx. 2 minutes) and open the drain plug.
3) Remove the fixing screws on the base and drain the remaining water from the bottom of the shower by tilting the shower (this is absolutely necessary!).
Cleaning
Use commercially available cleaning agents for cleaning. Do not use cleaning agents containing solvents, abrasive cleaning agents or hard sponges, brushes, etc.