Perry 230V WiFi CHRONOTHERMOSTAT Perry-1TXCR029WIFI











White wifi wall mounted 230V power supply Easy weekly programming with dedicated Apps Wireless connection Equipped with backlit LCD display with White-LED technology supports Amazon Alexa and Google Home


Wi-Fi CHRONOTHERMOSTAT, 230V

Price List

€ 170,8

Price MPCshop

€ 111,63

Available


31 Pcs Estimated Delivery in 5 working days


All prices are VAT included





Bullet points Perry Perry-1TXCR029WIFI

Wireless connection, supports Amazon Alexa and Google Home
Equipped with backlit LCD display with White-LED technology
Finish All-glass for a pleasant and modern design
Easily programmable viaAPP
Weekly programming

Perry chronothermostat Wi-Fi 230V model 1TXCR029WIFI color white 230V
chronothermostat wi-fi wall white weekly 230V

Customers Reviews Perry Perry-1TXCR029WIFI

---

Data: 30 December 2019
It works very well!!!! I recommend it.


Wall mounted wifi clock thermostat Perry 1TXCR029WIFI 230V power supply with Easy weekly programming with dedicated Apps, the cheap wifi clock thermostat has wireless connection and equipped with backlit LCD display with White-LE technology.

The weekly wifi clock thermostat has backlit programming keys with coloring according to consumption.

Main features of the white wifi thermostat

MULTI-SYSTEM MANAGEMENT SYSTEMS / MULTI-ZONE
To manage multiple devices within a home or different systems

TIME SETTING
Easy and intuitive.

WEEKLY PROGRAMMING
Up to 10 temperature levels that can be set in a single day.

EASY TO INSTALL
The new CR029WIFI chronothermostat simplifies installation and configuration operations. Using the Perry App, the parameters of time, date and time programming are synchronized in a few seconds.

ADVANCED SETTINGS
Temperature blocks, offsets, adjustment for floor or traditional systems

GEOLOCALIZATION
Allows, depending on the position of the tenants, to lower or raise the temperature. It guarantees significant energy savings.

VOIAL ASSISTANCES
The new Wi-Fi Perry chronothermostat supports Amazon Alexa and Google Home. From today it will be very easy to manage the temperature at home.


CONDIVISION
The App allows you to share devices with other users (with limits of settings). This function is particularly useful in the family or in rented homes.







First installation










Use










TECHNICAL CHARACTERISTICS of the wall-mounted wifi chronothermostat
-Power supply 230V~ 50-60 Hz
-LCD backlit with "White-LED "technology
-n°4 backlit keys (blue, green or red depending on the set temperature range), with option to lock
-Type of action, disconnection and device: 1 / BSU / Electronic
-Type of device: 1 / BSU / Electronic

Operated.
-Output type: relay with changeover contact COM / NO / NC, potential-free - max 5(3)A/250V~
- 0.5 mm ÷ 2.5 mm 2 Wire cross-section at terminals:
-Rated impulse voltage: 2.5 kV
-Software: class A
-Radio emission: the device intentionally emits radio waves on the frequency band of 2412-2472 MHz (Wi-Fi),
with a maximum power of less than 100 mW and.i.r.p.
Integrated PCB antenna, indicative flow rate 100 m outdoors, approx. 20 m indoors
-Charge reserve 72 hours (ensures advancement of the current time)
-Permanent memory to save settings and programming made
-Temperature scale: ºC (Celsius) default or ºF (Farenheit)
-Weekly programming, with 1 minute resolution, accuracy /- 1 minute
-n°10 temperature set changes programmable per day
-Setup Temperature set
-Setup Temperature set
-N°10 temperature set changes programmable per day
-Setup Temperature set up
Permanent memory to save settings and programming made
-Temperature set up: ºC (Celsius) default or ºF (Farenheit)
-Weekly programming, with 1 minute resolution, accuracy /- 1 minute
-N°10 temperature set changes programmable per day: 4 ºC ÷ 37.7 ºC, in steps of 0.1 ºC
-Ambient temperature measurement: 0 ºC ÷ 37.7 ºC, resolution 0.1 ºC, accuracy /- 1 °C
-Operating temperature 0 ºC ÷ 45 ºC
-Storage temperature: -10 ºC ÷ 60 ºC
-Temperature control mode:
- ON/OFF differential (factory setting) Hysteresis settable from 0.2 °C at 1.2 °C in steps of 0.1 ºC (default 0.3 ºC)
- Proportional modulating PID settable from 7 minutes to 20 minutes in steps of 1 minute (default 7 minutes)
-Settable antifreeze mode (Winter) 4 °C ÷ 12 °C (default 5 ºC)
Settable antifreeze mode (Summer) 37.7 °C ÷ 30 °C (default OFF - disabled)
-Energy classification ERP Reg. EU 811/2013:
- in differential mode ON/OFF = ERP Class I 1%
- in Proportional modulating mode = ERP Class IV 2%
-Insulated class: Class II
Protection class: IP30
-Pollution class: Normal
-Pump limescale function (is activated for 2 minutes if the pump has never been activated in the previous 24 hours)
-Operating mode: Heating (factory setting) / Cooling
Thermal gradient 1°K
-Temperature for ball testing: terminals, printed circuit board 125° C- casing 75° C

---

White wifi chronothermostat with weekly programming Perry 1TXCR029WIFI

230V WiFi CHRONOTHERMOSTAT Perry-1TXCR029WIFI
White wifi wall mounted 230V power supply Easy weekly programming with dedicated Apps Wireless connection Equipped with backlit LCD display with White-LED technology supports Amazon Alexa and Google Home


Wi-Fi CHRONOTHERMOSTAT, 230V

Price MPCshop

€ 111,63

Available


31 Pcs Estimated Delivery in 5 working days


All prices are VAT included

Bullet points Perry Perry-1TXCR029WIFI

Wireless connection, supports Amazon Alexa and Google Home


Equipped with backlit LCD display with White-LED technology


Finish All-glass for a pleasant and modern design


Easily programmable viaAPP


Weekly programming

Data: 30 dicembre 2019
Funziona molto bene!!! Lo consiglio

Wall mounted wifi clock thermostat Perry 1TXCR029WIFI 230V power supply with Easy weekly programming with dedicated Apps, the cheap wifi clock thermostat has wireless connection and equipped with backlit LCD display with White-LE technology.
The weekly wifi clock thermostat has backlit programming keys with coloring according to consumption.
Main features of the white wifi thermostat

MULTI-SYSTEM MANAGEMENT SYSTEMS / MULTI-ZONE
To manage multiple devices within a home or different systems

TIME SETTING
Easy and intuitive.

WEEKLY PROGRAMMING
Up to 10 temperature levels that can be set in a single day.

EASY TO INSTALL
The new CR029WIFI chronothermostat simplifies installation and configuration operations. Using the Perry App, the parameters of time, date and time programming are synchronized in a few seconds.

ADVANCED SETTINGS
Temperature blocks, offsets, adjustment for floor or traditional systems

GEOLOCALIZATION
Allows, depending on the position of the tenants, to lower or raise the temperature. It guarantees significant energy savings.

VOIAL ASSISTANCES
The new Wi-Fi Perry chronothermostat supports Amazon Alexa and Google Home. From today it will be very easy to manage the temperature at home.


CONDIVISION
The App allows you to share devices with other users (with limits of settings). This function is particularly useful in the family or in rented homes.
First installation
Use
TECHNICAL CHARACTERISTICS of the wall-mounted wifi chronothermostat
-Power supply 230V~ 50-60 Hz
-LCD backlit with "White-LED "technology
-n°4 backlit keys (blue, green or red depending on the set temperature range), with option to lock
-Type of action, disconnection and device: 1 / BSU / Electronic
-Type of device: 1 / BSU / Electronic

Operated.
-Output type: relay with changeover contact COM / NO / NC, potential-free - max 5(3)A/250V~
- 0.5 mm ÷ 2.5 mm 2 Wire cross-section at terminals:
-Rated impulse voltage: 2.5 kV
-Software: class A
-Radio emission: the device intentionally emits radio waves on the frequency band of 2412-2472 MHz (Wi-Fi),
with a maximum power of less than 100 mW and.i.r.p.
Integrated PCB antenna, indicative flow rate 100 m outdoors, approx. 20 m indoors
-Charge reserve 72 hours (ensures advancement of the current time)
-Permanent memory to save settings and programming made
-Temperature scale: ºC (Celsius) default or ºF (Farenheit)
-Weekly programming, with 1 minute resolution, accuracy /- 1 minute
-n°10 temperature set changes programmable per day
-Setup Temperature set
-Setup Temperature set
-N°10 temperature set changes programmable per day
-Setup Temperature set up
Permanent memory to save settings and programming made
-Temperature set up: ºC (Celsius) default or ºF (Farenheit)
-Weekly programming, with 1 minute resolution, accuracy /- 1 minute
-N°10 temperature set changes programmable per day: 4 ºC ÷ 37.7 ºC, in steps of 0.1 ºC
-Ambient temperature measurement: 0 ºC ÷ 37.7 ºC, resolution 0.1 ºC, accuracy /- 1 °C
-Operating temperature 0 ºC ÷ 45 ºC
-Storage temperature: -10 ºC ÷ 60 ºC
-Temperature control mode:
- ON/OFF differential (factory setting) Hysteresis settable from 0.2 °C at 1.2 °C in steps of 0.1 ºC (default 0.3 ºC)
- Proportional modulating PID settable from 7 minutes to 20 minutes in steps of 1 minute (default 7 minutes)
-Settable antifreeze mode (Winter) 4 °C ÷ 12 °C (default 5 ºC)
Settable antifreeze mode (Summer) 37.7 °C ÷ 30 °C (default OFF - disabled)
-Energy classification ERP Reg. EU 811/2013:
- in differential mode ON/OFF = ERP Class I 1%
- in Proportional modulating mode = ERP Class IV 2%
-Insulated class: Class II
Protection class: IP30
-Pollution class: Normal
-Pump limescale function (is activated for 2 minutes if the pump has never been activated in the previous 24 hours)
-Operating mode: Heating (factory setting) / Cooling
Thermal gradient 1°K
-Temperature for ball testing: terminals, printed circuit board 125° C- casing 75° C
---
White wifi chronothermostat with weekly programming Perry 1TXCR029WIFI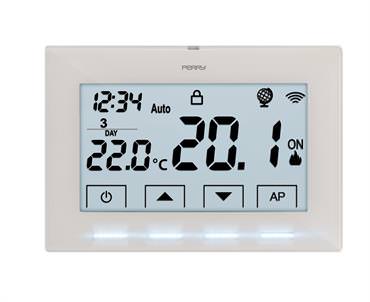 Details Perry Perry-1TXCR029WIFI

Power supply
230V - 50Hz
Programming Type
Weekly up to 10 programmes per day
Type Installation
Wall
Display Type
LCD 4.3" backlit
Minimum programming
1 minute
Automatic daylight saving time changeover
Yes
EAST / INV command
Yes
Keypad lock
Yes
Assembly
Wall
Exit
5(3)A/250Vc.a.
Backlighting
Timed / fixed ON / fixed OFF
How it works
ON/OFF with adjustable differential from 0.2 to 1.2°C or modulating with control period from 7 to 20 minutes
Temperature blocking
Yes
Measures
2,6x8,85x12,85
Weight
0
Barcode
8019108023820
Country of production
Italy
Vendor code
1TXCR029WIFI
End of promotion date
00:00:00
Comment
Wi-Fi CHRONOTHERMOSTAT, 230V
Brand
Perry
Brochure
Brochure
Manual

---

Similar items Perry Perry-1TXCR029WIFI

---



DETAIL
Perry-1CRCDS26 Chronothermostat for weekly installation

Perry-1CRCDS26 built-in weekly chronothermostat with batteries Moon Series Touch Screen Backlit display, 3 temperature levels _ antifreeze 4 preset programs that can be modified Cleaning suspension key Weekly chronothermostat on offer

• chronothermostat for weekly flush-mounting
• chronothermostat with batteries
• perry chronothermostat
• 503 built-in chronothermostat
• weekly chronothermostat with batteries


€ 95,86



---



DETAIL
Perry-1CRCDS27 Perry builtin chronothermostat

Chronothermostat Flush-mounted Perry Moon series Weekly touch screen chronothermostat Backlit display 3 temperature levels 4 preset programs that can be modified Cleaning suspension key Weekly flush-mounted chronothermostat is good and cheap

• built-in weekly chronothermostat
• built-in perry chronothermostat
• built-in perry chronothermostat 1crcds27
• touch screen chronothermostat
• weekly touch screen chronothermostat


€ 95,86



---



DETAIL
Perry-1CRCDS28 Builtin chronothermostat with 3V batteri

Chronothermostat for flush-mounting weekly 3V Soft Touch power supply Battery-powered Cmpcshop with backlit display 3 temperature levels 4 preset programs that can be modified Cleaning suspension key Perry soft touch chronothermostat 1CRCDS28

• 3v chronothermostat
• built-in chronothermostat
• battery operated chronothermostat
• soft touch chronothermostat
• 3v built-in chronothermostat


€ 97,94



---



DETAIL
Perry-1CRCDS29 Builtin chronothermostat 230V Perry

Chronothermostat for flush-mounting weekly 230V power supply Soft Touch backlit display, 3 temperature levels 4 preset programs Cleaning suspension key Three front panels included in the package Chronothermostat in special offer Perry

• built-in chronothermostat
• perry chronothermostat
• built-in chronothermostat 230v
• soft touch chronothermostat
• built-in weekly chronothermostat


€ 97,94



---



DETAIL
Perry-1CRCR017AG Wall mounted battery operated chronother

Wall clock thermostat daily digital UP and DOWN good and cheap chronothermostat Compact Easy Perry 1CRCR017AG color Anthracite Preprogrammed at the factory user-modifiable Programming 60 minutes LCD display 4 inches 1/2 Power supply 3V

• digital daily chronothermostat
• daily chronothermostat
• wall chronothermostat
• battery operated chronothermostat
• good and cheap chronothermostat


€ 95,86



---



DETAIL
Perry-1CRCR017BG Good and cheap chronothermostat PERRY

Daily white digital wall clock thermostat UP and DOWN Compact Easy Good and cheap clock thermostat Perry 1CRCR017BG White Factory pre-programmed user-modifiable Programming 60 minutes 4 inch LCD display 1/2 3V power supply

• digital daily chronothermostat
• good and cheap chronothermostat
• wall chronothermostat
• battery operated chronothermostat
• white chronothermostat


€ 95,86



---



DETAIL
Perry-1CRCR018AS Weekly wall clock thermostat

Weekly wall-mounted digital chronothermostat UP and DOWN Compact Easy Perry 1CRCR018AS Anthracite Factory pre-programmed chronothermostat Perry user-modifiable Programming 60 minutes LCD display 4 inches 1/2 3V power supply with 2 batteries

• weekly digital chronothermostat
• special offer chronothermostat
• wall chronothermostat
• battery operated chronothermostat
• perry chronothermostat


€ 96,89



---



DETAIL
Perry-1CRCR018BS Perry white wall clock thermostat

Wall clock thermostat weekly digital UP and DOWN Compact Easy Perry 1CRCR018BS Factory pre-programmed user-modifiable Programming 60 minutes LCD display 4 inches 1/2 Power supply 3V with 2 batteries Chronothermostat at a good price white

• digital weekly chronothermostat
• white weekly chronothermostat
• wall chronothermostat
• battery operated chronothermostat
• cheap chronothermostat


€ 96,89



---



DETAIL
Perry-1CRCR026A Weekly wall clock thermostat

Chronothermostat Weekly digital wall-mounted Perry ZEFIRO TOUCH SCREEN anthracite colour LCD display 3\" ¾ backlit 4 preset programmes that can be modified 3 temperature levels Antifreeze mode Cleaning suspension key Holiday programme

• touch screen chronothermostat
• battery operated chronothermostat
• perry chronothermostat
• wall mounted chronothermostat
• weekly chronothermostat


€ 89,6



---



DETAIL
Perry-1CRCR028A Chronothermostat for anthracite wall

Perry battery-powered anthracite wall thermostat Battery-powered 3V battery-powered Cheap weekly chronothermostat with Winter-Summer programming 3 temperature levels With user and installer password Luminous display and menu navigation

• chronothermostat for wall anthracite perry
• chronothermostat for wall with batteries
• chronothermostat 3v
• chronothermostat black
• chronothermostat digital


€ 102,1



---



DETAIL
Perry-1CRCR028B Perry white wall clock thermostat

White Perry battery-powered wall-mounted thermostat 3V battery-powered 3V battery-powered 3V battery-powered white Perry battery-powered white Perry battery-powered 3V battery-powered white Perry thermostat with Weekly, Winter-Summer programming 3 tempera

• chronothermostat for wall white perry
• chronothermostat for wall with batteries
• chronothermostat 3v
• chronothermostat white
• chronothermostat digital


€ 102,1



---



DETAIL
Perry-1CRCR029A Perry black wall clock thermostat

Black wall clock thermostat 230V power supply Digital clock thermostat Luminous display and menu navigation Weekly, Winter / Summer 3 temperature levels _ antifreeze Input for remote contact mpcshop good and cheap Perry

• wall chronothermostat
• good and cheap chronothermostat
• digital chronothermostat
• 230v chronothermostat
• weekly chronothermostat


€ 112,52



---



DETAIL
Perry-1CRCR029B Perry white wall clock thermostat

White wall clock thermostat 230V power supply Digital clock thermostat Luminous display and menu navigation Weekly, Winter / Summer 3 temperature levels _ antifreeze Input for remote contact mpcshop good and cheap Perry

• wall mounted chronothermostat
• good and cheap chronothermostat
• digital chronothermostat
• white chronothermostat
• weekly chronothermostat


€ 112,52



---



DETAIL
Perry-1CRCR308-G White wall clock thermostat with batteri

Perry 1CRCR308-G daily analogue digital chronothermostat White colour 3V EASY LCD display 2 inches 2/3 Temperature set adjustment shown on the display 2 temperature and antifreeze levels Perry daily wall-mounted chronothermostat white

• daily chronothermostat
• analog chronothermostat
• digital chronothermostat
• white wall chronothermostat
• battery operated chronothermostat


€ 63,55



---



DETAIL
Perry-1CRCR309-S Weekly wall clock thermostat

Perry 1CRCR309-S weekly analogue digital chronothermostat White colour 3V EASY 2 inch LCD display 2/3 Temperature set adjustment shown on the display 2 temperature and antifreeze levels Perry weekly wall-mounted chronothermostat White colour

• weekly wall-mounted chronothermostat
• chronothermostat made in italy
• perry chronothermostat
• wall mounted chronothermostat
• battery operated chronothermostat


€ 65,64



---



DETAIL
Perry-1TXCR028WIFI Wireless chronothermostat for 3V boiler

Wireless chronothermostat for 3V boiler controlled directly from Smartphone with optional Smartbox Works with any type of system, floor with radiators or fan-coils Automatic suspension of operation when windows open Colour white

• wifi chronothermostat
• wireless chronothermostat
• wall chronothermostat
• white chronothermostat
• perry chronothermostat


€ 134,2



---



DETAIL
Perry-1TXCR028WIFIKIT Wireless Smartbox Perry chronothermostat

Perry Wireless chronothermostat kit for boiler with Smartbox directly controlled by Smartphone Works with any type of system (floor, radiator or fan-coil) Automatic suspension of operation when opening windows

• wireless chronothermostat
• wifi chronothermostat
• smarthone chronothermostat
• wireless chronothermostat kit at the best price
• remote control chronothermostat


€ 219,59



---



DETAIL
Perry-1TXCR029WIFI 230V WiFi CHRONOTHERMOSTAT

White wifi wall mounted 230V power supply Easy weekly programming with dedicated Apps Wireless connection Equipped with backlit LCD display with White-LED technology supports Amazon Alexa and Google Home

• wall-mounted wifi chronothermostat
• weekly wifi chronothermostat
• white wifi chronothermostat
• wall-mounted wifi chronothermostat
• cheap wifi chronothermostat


€ 111,63



---



DETAIL
Perry-1TXCRTX05 Wireless wall thermostat

Perry 1TXCRTX05 wireless chronothermostat with radio frequency output 868.35MHz weekly 3 preset programs _ 1 free 2 temperature levels _ antifreeze Telephone control input MASTER function Wall mounted chronothermostat white

• wireless chronothermostat
• perry wall chronothermostat
• perry chronothermostat
• digital chronothermostat
• battery operated chronothermostat


€ 120,08



---



DETAIL
Perry-1TXCRTX05RX01 Wireless chronothermostat complete wall

Chronothermostat complete wall kit Kit consisting of 1 radio chronothermostat 1TX CRTX05 1 radio receiver 1 wall zone 1TX RX01/P The chronothermostat regulates time profiles and temperature sets Good and economical wall-mounted chronothermostat

• wireless chronothermostat
• perry wall chronothermostat
• perry chronothermostat
• good and cheap chronothermostat
• battery operated chronothermostat


€ 233,84



---



DETAIL
Perry-1TXCDS29WIFI Builtin 230V WIFI chronothermostat color

Built-in 230V WIFI chronothermostat white color. The new 1TX CDS29WIFI is an advanced device that goes well with any civilian environment. All thermoregulation features and settings are programmable by App. Keypad lock.

• recessed wifi chronothermostat
• wifi chronothermostat with psw
• wifi chronothermostat white
• wifi chronothermostat for recessed
• cheap wifi chronothermostat


€ 123,83



---

Similar items Perry Perry-1TXCR029WIFI

---



DETAIL
Perry-1CRCDS26 Chronothermostat for weekly installation

Perry-1CRCDS26 built-in weekly chronothermostat with batteries Moon Series Touch Screen Backlit display, 3 temperature levels _ antifreeze 4 preset programs that can be modified Cleaning suspension key Weekly chronothermostat on offer

• chronothermostat for weekly flush-mounting
• chronothermostat with batteries
• perry chronothermostat
• 503 built-in chronothermostat
• weekly chronothermostat with batteries


€ 95,86



---



DETAIL
Perry-1CRCDS27 Perry builtin chronothermostat

Chronothermostat Flush-mounted Perry Moon series Weekly touch screen chronothermostat Backlit display 3 temperature levels 4 preset programs that can be modified Cleaning suspension key Weekly flush-mounted chronothermostat is good and cheap

• built-in weekly chronothermostat
• built-in perry chronothermostat
• built-in perry chronothermostat 1crcds27
• touch screen chronothermostat
• weekly touch screen chronothermostat


€ 95,86



---



DETAIL
Perry-1CRCDS28 Builtin chronothermostat with 3V batteri

Chronothermostat for flush-mounting weekly 3V Soft Touch power supply Battery-powered Cmpcshop with backlit display 3 temperature levels 4 preset programs that can be modified Cleaning suspension key Perry soft touch chronothermostat 1CRCDS28

• 3v chronothermostat
• built-in chronothermostat
• battery operated chronothermostat
• soft touch chronothermostat
• 3v built-in chronothermostat


€ 97,94



---



DETAIL
Perry-1CRCDS29 Builtin chronothermostat 230V Perry

Chronothermostat for flush-mounting weekly 230V power supply Soft Touch backlit display, 3 temperature levels 4 preset programs Cleaning suspension key Three front panels included in the package Chronothermostat in special offer Perry

• built-in chronothermostat
• perry chronothermostat
• built-in chronothermostat 230v
• soft touch chronothermostat
• built-in weekly chronothermostat


€ 97,94



---



DETAIL
Perry-1CRCR017AG Wall mounted battery operated chronother

Wall clock thermostat daily digital UP and DOWN good and cheap chronothermostat Compact Easy Perry 1CRCR017AG color Anthracite Preprogrammed at the factory user-modifiable Programming 60 minutes LCD display 4 inches 1/2 Power supply 3V

• digital daily chronothermostat
• daily chronothermostat
• wall chronothermostat
• battery operated chronothermostat
• good and cheap chronothermostat


€ 95,86



---



DETAIL
Perry-1CRCR017BG Good and cheap chronothermostat PERRY

Daily white digital wall clock thermostat UP and DOWN Compact Easy Good and cheap clock thermostat Perry 1CRCR017BG White Factory pre-programmed user-modifiable Programming 60 minutes 4 inch LCD display 1/2 3V power supply

• digital daily chronothermostat
• good and cheap chronothermostat
• wall chronothermostat
• battery operated chronothermostat
• white chronothermostat


€ 95,86



---



DETAIL
Perry-1CRCR018AS Weekly wall clock thermostat

Weekly wall-mounted digital chronothermostat UP and DOWN Compact Easy Perry 1CRCR018AS Anthracite Factory pre-programmed chronothermostat Perry user-modifiable Programming 60 minutes LCD display 4 inches 1/2 3V power supply with 2 batteries

• weekly digital chronothermostat
• special offer chronothermostat
• wall chronothermostat
• battery operated chronothermostat
• perry chronothermostat


€ 96,89



---



DETAIL
Perry-1CRCR018BS Perry white wall clock thermostat

Wall clock thermostat weekly digital UP and DOWN Compact Easy Perry 1CRCR018BS Factory pre-programmed user-modifiable Programming 60 minutes LCD display 4 inches 1/2 Power supply 3V with 2 batteries Chronothermostat at a good price white

• digital weekly chronothermostat
• white weekly chronothermostat
• wall chronothermostat
• battery operated chronothermostat
• cheap chronothermostat


€ 96,89



---



DETAIL
Perry-1CRCR026A Weekly wall clock thermostat

Chronothermostat Weekly digital wall-mounted Perry ZEFIRO TOUCH SCREEN anthracite colour LCD display 3\" ¾ backlit 4 preset programmes that can be modified 3 temperature levels Antifreeze mode Cleaning suspension key Holiday programme

• touch screen chronothermostat
• battery operated chronothermostat
• perry chronothermostat
• wall mounted chronothermostat
• weekly chronothermostat


€ 89,6



---



DETAIL
Perry-1CRCR028A Chronothermostat for anthracite wall

Perry battery-powered anthracite wall thermostat Battery-powered 3V battery-powered Cheap weekly chronothermostat with Winter-Summer programming 3 temperature levels With user and installer password Luminous display and menu navigation

• chronothermostat for wall anthracite perry
• chronothermostat for wall with batteries
• chronothermostat 3v
• chronothermostat black
• chronothermostat digital


€ 102,1



---



DETAIL
Perry-1CRCR028B Perry white wall clock thermostat

White Perry battery-powered wall-mounted thermostat 3V battery-powered 3V battery-powered 3V battery-powered white Perry battery-powered white Perry battery-powered 3V battery-powered white Perry thermostat with Weekly, Winter-Summer programming 3 tempera

• chronothermostat for wall white perry
• chronothermostat for wall with batteries
• chronothermostat 3v
• chronothermostat white
• chronothermostat digital


€ 102,1



---



DETAIL
Perry-1CRCR029A Perry black wall clock thermostat

Black wall clock thermostat 230V power supply Digital clock thermostat Luminous display and menu navigation Weekly, Winter / Summer 3 temperature levels _ antifreeze Input for remote contact mpcshop good and cheap Perry

• wall chronothermostat
• good and cheap chronothermostat
• digital chronothermostat
• 230v chronothermostat
• weekly chronothermostat


€ 112,52



---



DETAIL
Perry-1CRCR029B Perry white wall clock thermostat

White wall clock thermostat 230V power supply Digital clock thermostat Luminous display and menu navigation Weekly, Winter / Summer 3 temperature levels _ antifreeze Input for remote contact mpcshop good and cheap Perry

• wall mounted chronothermostat
• good and cheap chronothermostat
• digital chronothermostat
• white chronothermostat
• weekly chronothermostat


€ 112,52



---



DETAIL
Perry-1CRCR308-G White wall clock thermostat with batteri

Perry 1CRCR308-G daily analogue digital chronothermostat White colour 3V EASY LCD display 2 inches 2/3 Temperature set adjustment shown on the display 2 temperature and antifreeze levels Perry daily wall-mounted chronothermostat white

• daily chronothermostat
• analog chronothermostat
• digital chronothermostat
• white wall chronothermostat
• battery operated chronothermostat


€ 63,55



---



DETAIL
Perry-1CRCR309-S Weekly wall clock thermostat

Perry 1CRCR309-S weekly analogue digital chronothermostat White colour 3V EASY 2 inch LCD display 2/3 Temperature set adjustment shown on the display 2 temperature and antifreeze levels Perry weekly wall-mounted chronothermostat White colour

• weekly wall-mounted chronothermostat
• chronothermostat made in italy
• perry chronothermostat
• wall mounted chronothermostat
• battery operated chronothermostat


€ 65,64



---



DETAIL
Perry-1TXCR028WIFI Wireless chronothermostat for 3V boiler

Wireless chronothermostat for 3V boiler controlled directly from Smartphone with optional Smartbox Works with any type of system, floor with radiators or fan-coils Automatic suspension of operation when windows open Colour white

• wifi chronothermostat
• wireless chronothermostat
• wall chronothermostat
• white chronothermostat
• perry chronothermostat


€ 134,2



---



DETAIL
Perry-1TXCR028WIFIKIT Wireless Smartbox Perry chronothermostat

Perry Wireless chronothermostat kit for boiler with Smartbox directly controlled by Smartphone Works with any type of system (floor, radiator or fan-coil) Automatic suspension of operation when opening windows

• wireless chronothermostat
• wifi chronothermostat
• smarthone chronothermostat
• wireless chronothermostat kit at the best price
• remote control chronothermostat


€ 219,59



---



DETAIL
Perry-1TXCR029WIFI 230V WiFi CHRONOTHERMOSTAT

White wifi wall mounted 230V power supply Easy weekly programming with dedicated Apps Wireless connection Equipped with backlit LCD display with White-LED technology supports Amazon Alexa and Google Home

• wall-mounted wifi chronothermostat
• weekly wifi chronothermostat
• white wifi chronothermostat
• wall-mounted wifi chronothermostat
• cheap wifi chronothermostat


€ 111,63



---



DETAIL
Perry-1TXCRTX05 Wireless wall thermostat

Perry 1TXCRTX05 wireless chronothermostat with radio frequency output 868.35MHz weekly 3 preset programs _ 1 free 2 temperature levels _ antifreeze Telephone control input MASTER function Wall mounted chronothermostat white

• wireless chronothermostat
• perry wall chronothermostat
• perry chronothermostat
• digital chronothermostat
• battery operated chronothermostat


€ 120,08



---



DETAIL
Perry-1TXCRTX05RX01 Wireless chronothermostat complete wall

Chronothermostat complete wall kit Kit consisting of 1 radio chronothermostat 1TX CRTX05 1 radio receiver 1 wall zone 1TX RX01/P The chronothermostat regulates time profiles and temperature sets Good and economical wall-mounted chronothermostat

• wireless chronothermostat
• perry wall chronothermostat
• perry chronothermostat
• good and cheap chronothermostat
• battery operated chronothermostat


€ 233,84



---



DETAIL
Perry-1TXCDS29WIFI Builtin 230V WIFI chronothermostat color

Built-in 230V WIFI chronothermostat white color. The new 1TX CDS29WIFI is an advanced device that goes well with any civilian environment. All thermoregulation features and settings are programmable by App. Keypad lock.

• recessed wifi chronothermostat
• wifi chronothermostat with psw
• wifi chronothermostat white
• wifi chronothermostat for recessed
• cheap wifi chronothermostat


€ 123,83



0

---

Perry-1TXCR029WIFI

Perry

230V WiFi CHRONOTHERMOSTAT
White wifi wall mounted 230V power supply Easy weekly programming with dedicated Apps Wireless connection Equipped with backlit LCD display with White-LED technology supports Amazon Alexa and Google Home
White wifi wall mounted 230V power supply Easy weekly programming with dedicated Apps Wireless connection Equipped with backlit LCD display with White-LED technology supports Amazon Alexa and Google Home

Product #:

1TXCR029WIFI

Price : EUR

111.63


Condition: New
Availability: InStock