Perry Good And Cheap Chronothermostat Perry Perry-1CRCR017BG











Daily White Digital Wall Clock Thermostat Up And Down Compact Easy Good And Cheap Clock Thermostat Perry 1crcr017bg White Factory Pre-programmed User-modifiable Programming 60 Minutes 4 Inch Lcd Display 1/2 3v Power Supply


CHRONOTHERMOSTAT WALL UP

Price List

Eur. 152,06

Price MPCshop

Eur. 95,86

Available


95 Pcs Estimated Delivery in 7 working days


All prices are VAT included





Bullet points Perry Perry-1CRCR017BG

The daily chronothermostat can control heating systems (wall-mounted boilers, burners, zone solenoid valves, underfloor systems) and/or air conditioning systems thanks to the HEATING (WINTER) or COOLING (SUMMER) function.
White chronothermostat It is equipped with a date window with the current factory pre-programmed date and time, which allows the change from solar to daylight saving time and vice versa, in a fully automatic manner.
Chronothermostat with device also has the possibility to anticipate the switching on and / or off of the connected user (standard intelligent operation and ecomy), to find yourself at the predetermined time with the desired temperature already reached
Digital white wall-mounted chronothermostat with WEEKEND function, suspension for domestic cleaning, optional block of set temperatures (MAX/MIN), allow to avoid energy waste with consequent economic savings.
Chronothermostat with Power Supply: N. 2 batteries Ministyle 1,5V alkaline type AAA (LR03)

Perry 1crcr017bg Digital Wall Mounted Daily Display Lcd Chronothermostat White
digital chronothermostat daily battery wall white batteries heating function winter cooling summer display lcd

Customers Reviews Perry Perry-1CRCR017BG

---

Vanni
Data: 4 March 2020
Chronothermostat of quality, precise and reliable.
It arrived in a very short time and immediately after the easy installation began to pilot the boiler according to the settings set. I replaced a unit of the same type that has worked well for over 10 years, the quality is excellent and the price is competitive and then made in Italy.

Roberto n
Data: 23 January 2018
VERY EFFICIENT Fast delivery within 48 hours of order directly from the supplier. Very easy installation (wiring diagrams attached) and instructions in Italian. Very easy programming and therefore free from errors and/or doubts. Elegant and not cumbersome. I recommend it without a shadow of a doubt for those who don't want to get sick with electronic thermostats.


Digital daily wall-mounted UP and DOWN Compact Easy Perry 1CRCR017BG White Pre-programmed factory preset user-modifiable 60 minutes programming 4 inch LCD display 1/2 3V power supply with 2 alkaline batteries 1.5V AAA
Digital white wall thermostat daily good and cheap chronothermostat

FORT POINTS
- The first wall thermostat Already PROGRAMMED IN THE FACTORY for hour and standard time profile modifiable later by the user
- The daily model chronothermostat can control heating systems (wall-mounted boilers, burners, zone solenoid valves, floor systems) and/or air conditioning systems thanks to the HEATING (WINTER) or COOLING (SUMMER)
- It has a date and time stamp with the current date and time pre-programmed in the factory, which allows the change from solar time to daylight saving time and vice versa, in completely automatic mode
- The device also has the possibility to anticipate the switch on and/or off of the connected user (standard and ecomomy intelligent operation), to find yourself at the preset time with the desired temperature already reached
- The WEEKEND function, the suspension for domestic cleaning, the optional block of the set temperatures (MAX/MIN), allow to avoid energy waste with consequent economic savings
- Power supply: N. 2 AAA type 1.5V alkaline Ministilo batteries (LR03)
- Cleaning suspension program: allows to stop, for a preset time, the operation of the system. Without waste and in all simplicity, just press the button with the cleaning suspension symbol and the segments disappear on the screen in correspondence with the two hours starting from the current one: system off
- Intelligent operation: the chronothermostat automatically anticipates the ignition of the connected user, in order to have the desired temperature at the preset time: the advance (max. 2 hours) regulates itself according to the characteristics of the system
- Eco operation: the Chronothermostat anticipates the shutdown by exploiting the thermal inertia of the plant, allowing a considerable energy saving
- Optimized operation: the Chronothermostat first turns on and off the connected user


The daily model battery-powered Chronothermostat can control heating systems (wall boilers, burners, area solenoid valves, floor systems) and/or air conditioning systems thanks to the HEATING (WINTER) or COOLING (SUMMER) function. It is equipped with a date and time stamp with the current date and time pre-programmed in the factory, which allows the change from solar time to daylight saving time and vice versa, completely automatically.
Ease of programming is the main feature of this chronothermostat.
During the design phase, the user's needs have been taken into account above all, and in order to change the settings, he does not need to make combinations of several keys to switch from one function to another: there are specific keys at his disposal.
The factory-fitted chronothermostat regulates the temperature in differential ON/OFF mode and the hysteresis can be set from 0.1°C to 0.9°C to adapt to the thermal inertia of your specific system, or it is possible to select the operation
in a proportional modulating mode with settable duration cycles (7-10-15-20 minutes) - this system allows to keep the desired temperature more stable, increasing the feeling of comfort for the user.
The device also has the possibility to anticipate the switching on and/or off of the connected user (standard and ecomomy intelligent operation), to find yourself at the preset time with the desired temperature already reached.
The temperature scale is in Centigrade (Celsius) and it is possible to calibrate the room temperature measurement by setting a correction value.
A particular attention has also been paid to energy saving: the WEEKEND function, the suspension for domestic cleaning, the optional block of the set temperatures (MAX/MIN), allow to avoid energy waste with consequent economic savings

TECHNICAL DATA
Feeding: N. 2 x AAA 1.5V alkaline type AAA (LR03)
Power supply autonomy: 1 year
Autonomy after switching on the display of the
Type of action, disconnection, device: 1 / B / U / Electronic
Type of output: Relay with NO / COM / NC changeover contact, potential-free - max 5(2)A / 250 Vac
Wire section at terminals: min. 1.5 mm2 - max. 2.5 mm2
Type of insulation class II
Software: class A
Rated impulse voltage: 4 kV
Protection degree: IP 30 (flush mounted)
Pollution degree: normal
Clock accuracy ± 1 sec/day
Temperature reading accuracy ± 0.5 °C
Resolution of ambient temperature indicator: 0.1 °C
Review room temperature scale: 0 °C ÷ 50 °C
Heating temperature adjustment range: 15 - 17 - 18 - 19 - 20 - 20.5 - 21 - 22 - 23 - 24°C 10 steps (levels)
Thermal antifreeze protection (winter) 6 °C (default activated)
Cooling temperature adjustment range: 20 - 22 - 23 - 24 - 25 - 26 - 27 - 27 - 28 - 32 - 36 °C 0 step (levels)
Summer heat protection (hot) 40°C (default excluded)
Temperature regulation mode
- ON/OFF differential (default): adjustable from 0.1 to 0.9 °C (default 0.3 °C)
- modulating proportional: adjustable from 7 -10 - 15 - 20 minutes (default 10 minutes)
Thermal gradient: 1°K / 15 min
Operating temperature limits: 0 °C ÷ 55 °C
Reference norms for CE marking: LVD/EMC EN60730-2-7 EN60730-2-9







.

---

Daily wall clock thermostat white Perry 1CRCR017BG Perry 1CRCR017BG

Good And Cheap Chronothermostat Perry Perry-1CRCR017BG
Daily White Digital Wall Clock Thermostat Up And Down Compact Easy Good And Cheap Clock Thermostat Perry 1crcr017bg White Factory Pre-programmed User-modifiable Programming 60 Minutes 4 Inch Lcd Display 1/2 3v Power Supply


CHRONOTHERMOSTAT WALL UP

Price MPCshop

Eur. 95,86

Available


95 Pcs Estimated Delivery in 7 working days


All prices are VAT included

Bullet points Perry Perry-1CRCR017BG

The daily chronothermostat can control heating systems (wall-mounted boilers, burners, zone solenoid valves, underfloor systems) and/or air conditioning systems thanks to the HEATING (WINTER) or COOLING (SUMMER) function.


White chronothermostat It is equipped with a date window with the current factory pre-programmed date and time, which allows the change from solar to daylight saving time and vice versa, in a fully automatic manner.


Chronothermostat with device also has the possibility to anticipate the switching on and / or off of the connected user (standard intelligent operation and ecomy), to find yourself at the predetermined time with the desired temperature already reached


Digital white wall-mounted chronothermostat with WEEKEND function, suspension for domestic cleaning, optional block of set temperatures (MAX/MIN), allow to avoid energy waste with consequent economic savings.


Chronothermostat with Power Supply: N. 2 batteries Ministyle 1,5V alkaline type AAA (LR03)

Data: 4 marzo 2020
Cronotermostato di qualità,preciso ed affidabile. E' arrivato in tempi brevissimi e subito dopo la facile installazione ha cominciato a pilotare la caldaia secondo le regolazioni impostate.Ho sostituito una unità pari tipo che ha funzionato bene per oltre 10 anni,la qualità è ottima ed il prezzo concorrenziale e poi è fatto in Italia.


Data: 23 gennaio 2018
MOLTO EFFICIENTE Consegna rapida in 48 ore dall' ordine direttamente dal fornitore. Molto facile l'istallazione (schemi elettrici allegati) ed istruzioni in italiano. Programmazione facilissima e quindi esente da errori e/o dubbi. Elegante e non ingombrante. Lo raccomando senza ombra di dubbio per quanti non vogliono ammattire con termostati elettronici cervellotici.

Cronotermostato digitale giornaliero da parete UP e DOWN Compact Easy Perry 1CRCR017BG Bianco Preprogrammato in fabbrica modificabile da utente Programmazione 60 minuti Display LCD 4 pollici 1/2 Alimentazione 3V con 2 pile alcaline 1.5V AAA
Cronotermostato bianco digitale da parete giornaliero Cronotermostato buono e economico

PUNTI DI FORZA
• Il primo Cronotermostato da parete GIÀ PROGRAMMATO IN FABBRICA per ora e profilo orario standard modificabile in un secondo momento dall`utente
• Il Cronotermostato modello giornaliero può comandare impianti di riscaldamento (caldaie murali, bruciatori, elettrovalvole di zona, impianti a pavimento) e/o impianti di condizionamento grazie alla funzione RISCALDAMENTO (INVERNO) o RAFFRESCAMENTO (ESTATE)
• È dotato di un datario con la data e l'ora attuali preprogrammate in fabbrica, che permette il cambio da ora solare a ora legale e viceversa, in modo completamente automatico
• Il dispositivo ha inoltre la possibilità di anticipare l'accensione e/o lo spegnimento dell'utenza allacciata (funzionamento intelligente standard ed ecomomy), per ritrovarvi all'ora prefissata con la temperatura desiderata già raggiunta
• La funzione WEEKEND, la sospensione per pulizie domestiche, il blocco opzionale delle temperature di Set impostate (MAX/MIN), consentono di evitare sprechi di energia con conseguente risparmio economico
• Alimentazione: N. 2 pile Ministilo 1,5V alcaline tipo AAA (LR03)
• Programma sospensione per pulizie: permette di arrestare, per un tempo prestabilito, il funzionamento dell'impianto. Senza spreco e in tutta semplicità, basta premere il tasto con il simbolo "sospensione pulizie" e sullo schermo scompaiono i segmenti in corrispondenza delle due ore a partire da quella attuale: impianto spento
• Funzionamento intelligente: il Cronotermostato anticipa automaticamente I' accensione dell'utenza allacciata, al fine di avere la temperatura desiderata all'ora prefissata: l'anticipo (max di 2 ore) si auto regola in base alle caratteristiche dell'impianto
• Funzionamento eco: il Cronotermostato anticipa lo spegnimento sfruttando l`inerzia termica dell`impianto, consentendo un notevole risparmio di energia
• Funzionamento ottimizzato: il Cronotermostato accende prima e spegne prima l`utenza allacciata


Il Cronotermostato a batterie modello giornaliero può comandare impianti di riscaldamento (caldaie murali, bruciatori, elettrovalvole di zona, impianti a pavimento) e/o impianti di condizionamento grazie alla funzione RISCALDAMENTO (INVERNO) o RAFFRESCAMENTO (ESTATE). È dotato di un datario con la data e l'ora attuali preprogrammate in fabbrica, che permette il cambio da ora solare a ora legale e viceversa, in modo completamente automatico.
La facilità di programmazione è la caratteristica fondamentale di questo cronotermostato .
Durante la fase di progettazione, si è pensato soprattutto alle esigenze dell'utilizzatore che, per modificare le impostazioni, non dovrà eseguire combinazioni di più tasti per passare da una funzione ad un'altra: a sua disposizione ci sono tasti specifici.
II cronotermostato, di fabbrica, regola la temperatura in modo differenziale ON/OFF e l'isteresi è impostabile da 0,1°C a 0,9°C per adattarsi all'inerzia termica del Vostro specifico impianto, oppure è possibile selezionare il funzionamento
in modo proporzionale modulante con cicli di durata impostabili (7-10-15-20 minuti) - questo sistema permette di mantenere più stabile la temperatura desiderata, aumentando la sensazione di comfort per l'utente.
Il dispositivo ha inoltre la possibilità di anticipare l'accensione e/o lo spegnimento dell'utenza allacciata (funzionamento intelligente standard ed ecomomy), per ritrovarvi all'ora prefissata con la temperatura desiderata già raggiunta.
La scala di temperatura è in gradi Centigradi (Celsius) ed è possibile calibrare la misurazione della temperatura ambiente impostando un valore di correzione.
Particolare attenzione è stata riservata anche al risparmio energetico: la funzione WEEKEND, la sospensione per pulizie domestiche, il blocco opzionale delle temperature di Set impostate (MAX/MIN), consentono di evitare sprechi di energia con conseguente risparmio economico

DATI TECNICI
Alimentazione: N. 2 pile Ministilo 1,5V alcaline tipo AAA (LR03)
Autonomia di alimentazione: 1 anno
Autonomia dall'accensione sul display del
Tipo di azione, disconnessione, apparecchio: 1 / B / U / Elettronico
Tipo di uscita: A relè con contatto in scambio NA / COM / NC, libero da potenziale - max 5(2)A / 250 Vac
Sezione dei fili ai morsetti: min. 1,5 mm2 - max. 2,5 mm2
Tipo di isolamento classe II
Software: classe A
Tensione impulsiva nominale: 4 kV
Grado di protezione: IP 30 (a incasso)
Grado di inquinamento: normale
Precisione dell'orologio ± 1 sec/giorno
Precisione lettura temperatura ± 0,5 °C
Risoluzione indicatore temperatura ambiente: 0,1 °C
Scala di visualizzazione temperatura ambiente: 0 °C ÷ +50 °C
Campo di regolazione temperatura riscaldamento: 15 - 17 - 18 - 19 - 20 - 20,5 - 21 - 22 - 23 - 24°C 10 step (livelli)
Protezione termica antigelo (inverno) +6 °C (default attivata)
Campo di regolazione temperatura raffrescamento: 20 - 22 - 23 - 24 - 25 - 26 - 27 - 28 - 32 - 36 °C 0 step (livelli)
Protezione termica estate (anticaldo) +40°C (default esclusa)
Modalità di regolazione temperatura
- differenziale ON/OFF (default): regolabile da 0,1 a 0,9 °C (default 0,3 °C)
- proporzionale modulante: regolabile da 7 -10 - 15 - 20 minuti (default 10 minuti)
Gradiente termico: 1°K / 15 min
Limiti della temperatura di funzionamento: 0 °C ÷ + 55 °C
Normative di riferimento per marcatura CE: LVD/EMC EN60730-2-7 EN60730-2-9
---
Daily wall clock thermostat white Perry 1CRCR017BG Perry 1CRCR017BG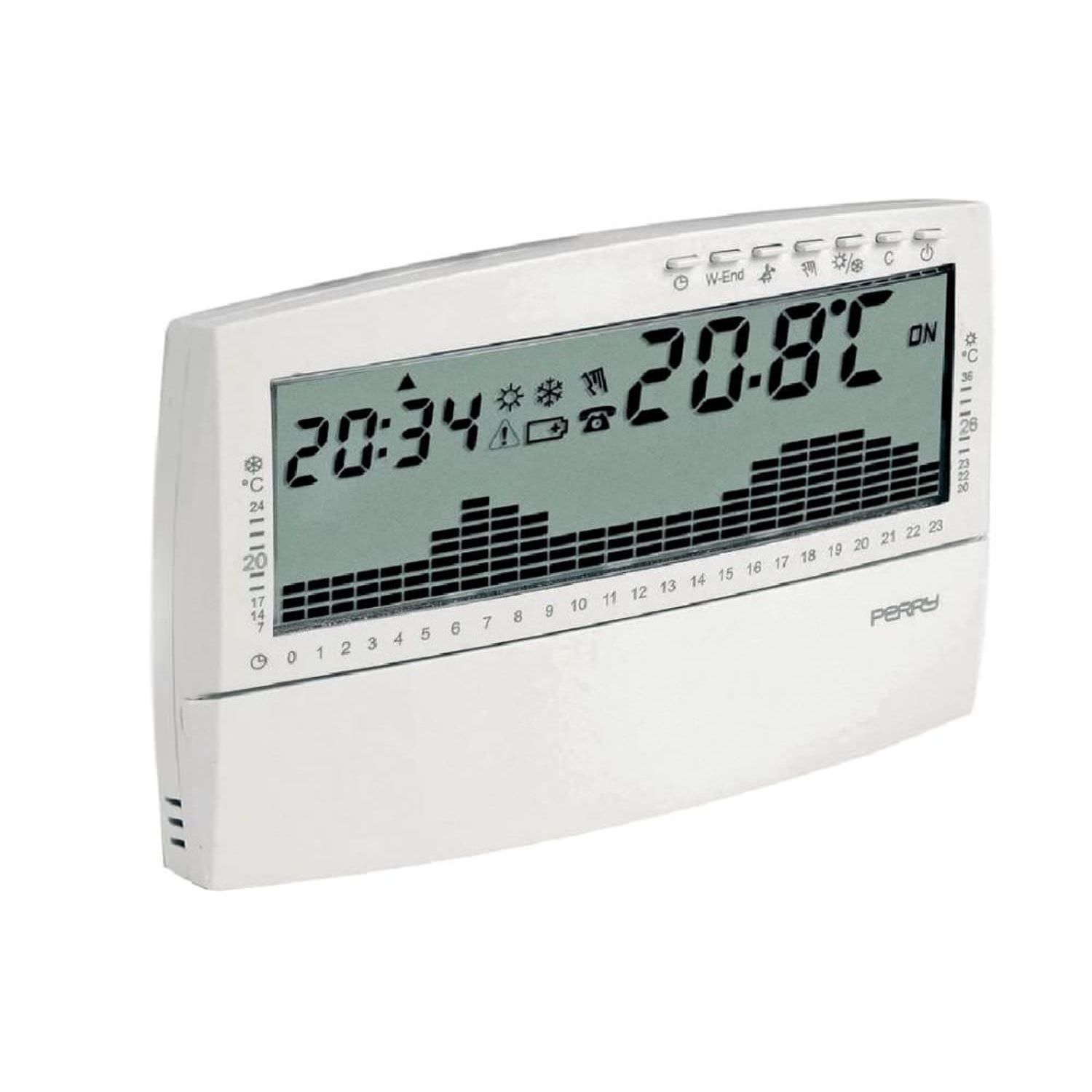 Details Perry Perry-1CRCR017BG

Power supply
3V - 2x1.5V AAA alkaline
Programming Type
Daily
Type Installation
Wall
Display Type
Lcd 4" ½
Battery autonomy
12 months
Temperature levels
10 + antifreeze
Minimum programming
60 minutes
Automatic daylight saving time changeover
Yes
Suspension button for cleaning
Yes
EAST / INV command
Yes
Holiday Program
Yes
Pump activation program
Yes
Keypad lock
Yes
Telephone or remote control input
No
Assembly
Wall
Setting range
Heating 15 - 17 - 18 - 19 - 20 - 20.5 - 21 - 22 - 23 - 24 °C - Cooling 20 - 22 - 23 - 24 - 25 - 26 - 27 - 28 - 32 - 36 °C
Exit
5(2)A/250Vc.a.
How it works
Intelligent / Eco / Optimised and Manual / Permanent / Temporary
Temperature blocking
Yes
Color
White
Measures
9x2,6x13,3
Weight
0
Barcode
8019108090891
Country of production
Italy
Vendor code
1CRCR017BG
Comment
CHRONOTHERMOSTAT WALL UP
Brand
Perry
Manual

---

Similar items Perry Perry-1CRCR017BG

---



DETAIL
Perry-1CRCR028B Perry White Wall Clock Thermostat

White Perry battery-powered wall-mounted thermostat 3V battery-powered 3V battery-powered 3V battery-powered white Perry battery-powered white Perry battery-powered 3V battery-powered white Perry thermostat with Weekly, Winter-Summer programming 3 tempera

• chronothermostat for wall white perry
• chronothermostat for wall with batteries
• chronothermostat 3v
• chronothermostat white
• chronothermostat digital


Eur. 102,1



---



DETAIL
Perry-1CRCR028A Chronothermostat For Anthracite Wall

Perry Battery-powered Anthracite Wall Thermostat Battery-powered 3v Battery-powered Cheap Weekly Chronothermostat With Winter-summer Programming 3 Temperature Levels With User And Installer Password Luminous Display And Menu Navigation

• chronothermostat for wall anthracite perry
• chronothermostat for wall with batteries
• chronothermostat 3v
• chronothermostat black
• chronothermostat digital


Eur. 102,1



---



DETAIL
Perry-1CRCR029B Perry White Wall Clock Thermostat

White Wall Clock Thermostat 230v Power Supply Digital Clock Thermostat Luminous Display And Menu Navigation Weekly, Winter / Summer 3 Temperature Levels _ Antifreeze Input For Remote Contact Mpcshop Good And Cheap Perry

• wall mounted chronothermostat
• good and cheap chronothermostat
• digital chronothermostat
• white chronothermostat
• weekly chronothermostat


Eur. 112,52



---



DETAIL
Perry-1CRCR029A Perry Black Wall Clock Thermostat

Black Wall Clock Thermostat 230v Power Supply Digital Clock Thermostat Luminous Display And Menu Navigation Weekly, Winter / Summer 3 Temperature Levels _ Antifreeze Input For Remote Contact Mpcshop Good And Cheap Perry

• wall chronothermostat
• good and cheap chronothermostat
• digital chronothermostat
• 230v chronothermostat
• weekly chronothermostat


Eur. 112,52



---



DETAIL
Perry-1CRCR018BS Perry White Wall Clock Thermostat

Wall Clock Thermostat Weekly Digital Up And Down Compact Easy Perry 1crcr018bs Factory Pre-programmed User-modifiable Programming 60 Minutes Lcd Display 4 Inches 1/2 Power Supply 3v With 2 Batteries Chronothermostat At a Good Price White

• digital weekly chronothermostat
• white weekly chronothermostat
• wall chronothermostat
• battery operated chronothermostat
• cheap chronothermostat


Eur. 96,89



---



DETAIL
Perry-1CRCR018AS Weekly Wall Clock Thermostat

Weekly Wall-mounted Digital Chronothermostat Up And Down Compact Easy Perry 1crcr018as Anthracite Factory Pre-programmed Chronothermostat Perry User-modifiable Programming 60 Minutes Lcd Display 4 Inches 1/2 3v Power Supply With 2 Batteries

• weekly digital chronothermostat
• special offer chronothermostat
• wall chronothermostat
• battery operated chronothermostat
• perry chronothermostat


Eur. 96,89



---



DETAIL
Perry-1CRCR017AG Wall Mounted Battery Operated Chronother

Wall Clock Thermostat Daily Digital Up And Down Good And Cheap Chronothermostat Compact Easy Perry 1crcr017ag Color Anthracite Preprogrammed At The Factory User-modifiable Programming 60 Minutes Lcd Display 4 Inches 1/2 Power Supply 3v

• digital daily chronothermostat
• daily chronothermostat
• wall chronothermostat
• battery operated chronothermostat
• good and cheap chronothermostat


Eur. 95,86



---



DETAIL
Perry-1CRCR309-S Weekly Wall Clock Thermostat

Perry 1crcr309-s Weekly Analogue Digital Chronothermostat White Colour 3v Easy 2 Inch Lcd Display 2/3 Temperature Set Adjustment Shown On The Display 2 Temperature And Antifreeze Levels Perry Weekly Wall-mounted Chronothermostat White Colour

• weekly wall-mounted chronothermostat
• chronothermostat made in italy
• perry chronothermostat
• wall mounted chronothermostat
• battery operated chronothermostat


Eur. 65,64



---



DETAIL
Perry-1CRCR308-G White Wall Clock Thermostat With Batteri

Perry 1crcr308-g Daily Analogue Digital Chronothermostat White Colour 3v Easy Lcd Display 2 Inches 2/3 Temperature Set Adjustment Shown On The Display 2 Temperature And Antifreeze Levels Perry Daily Wall-mounted Chronothermostat White

• daily chronothermostat
• analog chronothermostat
• digital chronothermostat
• white wall chronothermostat
• battery operated chronothermostat


Eur. 63,55



---



DETAIL
Perry-1CRCR026A Weekly Wall Clock Thermostat

Chronothermostat Weekly Digital Wall-mounted Perry Zefiro Touch Screen Anthracite Colour Lcd Display 3\" ¾ Backlit 4 Preset Programmes That Can Be Modified 3 Temperature Levels Antifreeze Mode Cleaning Suspension Key Holiday Programme

• touch screen chronothermostat
• battery operated chronothermostat
• perry chronothermostat
• wall mounted chronothermostat
• weekly chronothermostat


Eur. 89,6



---

Similar items Perry Perry-1CRCR017BG

---



DETAIL
Perry-1CRCR028B Perry White Wall Clock Thermostat

White Perry battery-powered wall-mounted thermostat 3V battery-powered 3V battery-powered 3V battery-powered white Perry battery-powered white Perry battery-powered 3V battery-powered white Perry thermostat with Weekly, Winter-Summer programming 3 tempera

• chronothermostat for wall white perry
• chronothermostat for wall with batteries
• chronothermostat 3v
• chronothermostat white
• chronothermostat digital


Eur. 102,1



---



DETAIL
Perry-1CRCR028A Chronothermostat For Anthracite Wall

Perry Battery-powered Anthracite Wall Thermostat Battery-powered 3v Battery-powered Cheap Weekly Chronothermostat With Winter-summer Programming 3 Temperature Levels With User And Installer Password Luminous Display And Menu Navigation

• chronothermostat for wall anthracite perry
• chronothermostat for wall with batteries
• chronothermostat 3v
• chronothermostat black
• chronothermostat digital


Eur. 102,1



---



DETAIL
Perry-1CRCR029B Perry White Wall Clock Thermostat

White Wall Clock Thermostat 230v Power Supply Digital Clock Thermostat Luminous Display And Menu Navigation Weekly, Winter / Summer 3 Temperature Levels _ Antifreeze Input For Remote Contact Mpcshop Good And Cheap Perry

• wall mounted chronothermostat
• good and cheap chronothermostat
• digital chronothermostat
• white chronothermostat
• weekly chronothermostat


Eur. 112,52



---



DETAIL
Perry-1CRCR029A Perry Black Wall Clock Thermostat

Black Wall Clock Thermostat 230v Power Supply Digital Clock Thermostat Luminous Display And Menu Navigation Weekly, Winter / Summer 3 Temperature Levels _ Antifreeze Input For Remote Contact Mpcshop Good And Cheap Perry

• wall chronothermostat
• good and cheap chronothermostat
• digital chronothermostat
• 230v chronothermostat
• weekly chronothermostat


Eur. 112,52



---



DETAIL
Perry-1CRCR018BS Perry White Wall Clock Thermostat

Wall Clock Thermostat Weekly Digital Up And Down Compact Easy Perry 1crcr018bs Factory Pre-programmed User-modifiable Programming 60 Minutes Lcd Display 4 Inches 1/2 Power Supply 3v With 2 Batteries Chronothermostat At a Good Price White

• digital weekly chronothermostat
• white weekly chronothermostat
• wall chronothermostat
• battery operated chronothermostat
• cheap chronothermostat


Eur. 96,89



---



DETAIL
Perry-1CRCR018AS Weekly Wall Clock Thermostat

Weekly Wall-mounted Digital Chronothermostat Up And Down Compact Easy Perry 1crcr018as Anthracite Factory Pre-programmed Chronothermostat Perry User-modifiable Programming 60 Minutes Lcd Display 4 Inches 1/2 3v Power Supply With 2 Batteries

• weekly digital chronothermostat
• special offer chronothermostat
• wall chronothermostat
• battery operated chronothermostat
• perry chronothermostat


Eur. 96,89



---



DETAIL
Perry-1CRCR017AG Wall Mounted Battery Operated Chronother

Wall Clock Thermostat Daily Digital Up And Down Good And Cheap Chronothermostat Compact Easy Perry 1crcr017ag Color Anthracite Preprogrammed At The Factory User-modifiable Programming 60 Minutes Lcd Display 4 Inches 1/2 Power Supply 3v

• digital daily chronothermostat
• daily chronothermostat
• wall chronothermostat
• battery operated chronothermostat
• good and cheap chronothermostat


Eur. 95,86



---



DETAIL
Perry-1CRCR309-S Weekly Wall Clock Thermostat

Perry 1crcr309-s Weekly Analogue Digital Chronothermostat White Colour 3v Easy 2 Inch Lcd Display 2/3 Temperature Set Adjustment Shown On The Display 2 Temperature And Antifreeze Levels Perry Weekly Wall-mounted Chronothermostat White Colour

• weekly wall-mounted chronothermostat
• chronothermostat made in italy
• perry chronothermostat
• wall mounted chronothermostat
• battery operated chronothermostat


Eur. 65,64



---



DETAIL
Perry-1CRCR308-G White Wall Clock Thermostat With Batteri

Perry 1crcr308-g Daily Analogue Digital Chronothermostat White Colour 3v Easy Lcd Display 2 Inches 2/3 Temperature Set Adjustment Shown On The Display 2 Temperature And Antifreeze Levels Perry Daily Wall-mounted Chronothermostat White

• daily chronothermostat
• analog chronothermostat
• digital chronothermostat
• white wall chronothermostat
• battery operated chronothermostat


Eur. 63,55



---



DETAIL
Perry-1CRCR026A Weekly Wall Clock Thermostat

Chronothermostat Weekly Digital Wall-mounted Perry Zefiro Touch Screen Anthracite Colour Lcd Display 3\" ¾ Backlit 4 Preset Programmes That Can Be Modified 3 Temperature Levels Antifreeze Mode Cleaning Suspension Key Holiday Programme

• touch screen chronothermostat
• battery operated chronothermostat
• perry chronothermostat
• wall mounted chronothermostat
• weekly chronothermostat


Eur. 89,6



---

Perry-1CRCR017BG

Perry

Good And Cheap Chronothermostat Perry
Daily White Digital Wall Clock Thermostat Up And Down Compact Easy Good And Cheap Clock Thermostat Perry 1crcr017bg White Factory Pre-programmed User-modifiable Programming 60 Minutes 4 Inch Lcd Display 1/2 3v Power Supply
Daily White Digital Wall Clock Thermostat Up And Down Compact Easy Good And Cheap Clock Thermostat Perry 1crcr017bg White Factory Pre-programmed User-modifiable Programming 60 Minutes 4 Inch Lcd Display 1/2 3v Power Supply

white

Product #:

1CRCR017BG

Price : EUR

95.86


Condition: New
Availability: InStock