Perry Black electronic wall thermostat Perry-1TPTE120-A











PERSONAL series electronic wall thermostat with anthracite indicator light 230V AC power supply Remote input -4°C night reduction on Set point value with mechanical temperature lock LED status indication electronic thermostat relay with indicator light

ELECTRONIC WALL THERMOSTAT

Price List

€ 52,95

Price MPCshop

€ 51,54

Available


81 Pcs Estimated Delivery in 5 working days


All prices are VAT included





Bullet points Perry Perry-1TPTE120-A

Perry PERSONAL series electronic wall thermostat with indicator light
On-off thermostat with 230V AC 50-60Hz power supply
Perry electronic thermostat with indicator light equipped with an input for remote control of night-time temperature reduction (e.g.: clock contact).
Electronic thermostat ON/OFF operation with fixed differential 0.7 °
Wall thermostat Set-point Thermostat with mechanical temperature lock

Perry Perry 1TPTE120 A black Electronic wall thermostat black

Customers Reviews Perry Perry-1TPTE120-A

---

Data: 2 May 2020
Electronic wall mounted thermostat series PERSONAL Perry 1TPTE120-A.Arrived in a very short time, easily installed (but still identical to the previous one).it respects the description of the seller and works perfectly.if you still need it, I will surely contact this seller!

Data: 18 January 2019
Thermostat practical and easy to use, obviously have it installed by a qualified electrician

Data: 7th August 2019
It's precise compared to battery-powered


Wall thermostat electronic series PERSONAL with anthracite colour indicator light Power supply 230V a.c. 50-60Hz Remote input night reduction -4°C on set-point Set-point value with mechanical temperature lockLED relay status indication Perry 1TPTE120A

FORCE POINTS of electronic thermostat with light
- Power supply 230V c.c.a. 50-60Hz
- LED relay status indication
- Set-point with mechanical temperature lock

Technical features PERSONAL series electronic wall thermostat
Perry thermostat with supply voltage: 230V~ 50 ÷ 60 Hz
Type of disconnection and device: 1B/electronic
Type of output: Relay with exchange contacts NC/COM/NA 8 (2) A 250V
Maximum section of wires at terminals: 1.5 mm2
Sensitive element: NTC 10 kohm/25 °C /-1%
Regulating range: 5 ÷ 30 °C (Comfort temperature)
Decrease temperature: 4 °C lower than the set Comfort value
Differential: Dt = 0.7 °C
Thermal gradient MAX: 1 °K/15 min
Read accuracy: ± 0.5°C
Insulation class / Degree of protection: II / IP30
Pollution: normal
Operating temperature limits: 0°C ÷ 55°C
Installation: Wall and/or on 3-seater or round box
Probe MAX distance: 100 m (only models with removable probe)
signalling devices: LED on = load inserted
Reference standards for CE marking: EMC EN55104 LVD EN60730-1 EN60730-2-9
Dimensions (LxWxH) 111.5 x 29 x 75


.

---

Perry electronic thermostat with black wall light Perry 1TPTE120/A

Black electronic wall thermostat Perry-1TPTE120-A
PERSONAL series electronic wall thermostat with anthracite indicator light 230V AC power supply Remote input -4°C night reduction on Set point value with mechanical temperature lock LED status indication electronic thermostat relay with indicator light

ELECTRONIC WALL THERMOSTAT

Price List

€ 52,95

Price MPCshop

€ 51,54

Available


81 Pcs Estimated Delivery in 5 working days


All prices are VAT included

Bullet points Perry Perry-1TPTE120-A

Perry PERSONAL series electronic wall thermostat with indicator light


On-off thermostat with 230V AC 50-60Hz power supply


Perry electronic thermostat with indicator light equipped with an input for remote control of night-time temperature reduction (e.g.: clock contact).


Electronic thermostat ON/OFF operation with fixed differential 0.7 °


Wall thermostat Set-point Thermostat with mechanical temperature lock

Data: 2 maggio 2020
Termostato elettronico da parete serie PERSONAL Perry 1TPTE120-A. Arrivato in tempi brevissimi, istallato facilmente (ma ad comunque era identico a quello precedente). Rispetta la descrizione del venditore e funziona perfettamente. Se dovessi avere ancora bisogno sicuramente ricontatterò questo venditore!


Data: 18 gennaio 2019
Termostato pratico e semplice da usare, ovviamente fare installare da elettricista abilitato


Data: 7 agosto 2019
È preciso rispetto a quelli a batteria

Wall thermostat electronic series PERSONAL with anthracite colour indicator light Power supply 230V a.c. 50-60Hz Remote input night reduction -4°C on set-point Set-point value with mechanical temperature lockLED relay status indication Perry 1TPTE120A

FORCE POINTS of electronic thermostat with light
- Power supply 230V c.c.a. 50-60Hz
- LED relay status indication
- Set-point with mechanical temperature lock

Technical features PERSONAL series electronic wall thermostat
Perry thermostat with supply voltage: 230V~ 50 ÷ 60 Hz
Type of disconnection and device: 1B/electronic
Type of output: Relay with exchange contacts NC/COM/NA 8 (2) A 250V
Maximum section of wires at terminals: 1.5 mm2
Sensitive element: NTC 10 kohm/25 °C /-1%
Regulating range: 5 ÷ 30 °C (Comfort temperature)
Decrease temperature: 4 °C lower than the set Comfort value
Differential: Dt = 0.7 °C
Thermal gradient MAX: 1 °K/15 min
Read accuracy: ± 0.5°C
Insulation class / Degree of protection: II / IP30
Pollution: normal
Operating temperature limits: 0°C ÷ 55°C
Installation: Wall and/or on 3-seater or round box
Probe MAX distance: 100 m (only models with removable probe)
signalling devices: LED on = load inserted
Reference standards for CE marking: EMC EN55104 LVD EN60730-1 EN60730-2-9
Dimensions (LxWxH) 111.5 x 29 x 75


.
---
Perry electronic thermostat with black wall light Perry 1TPTE120/A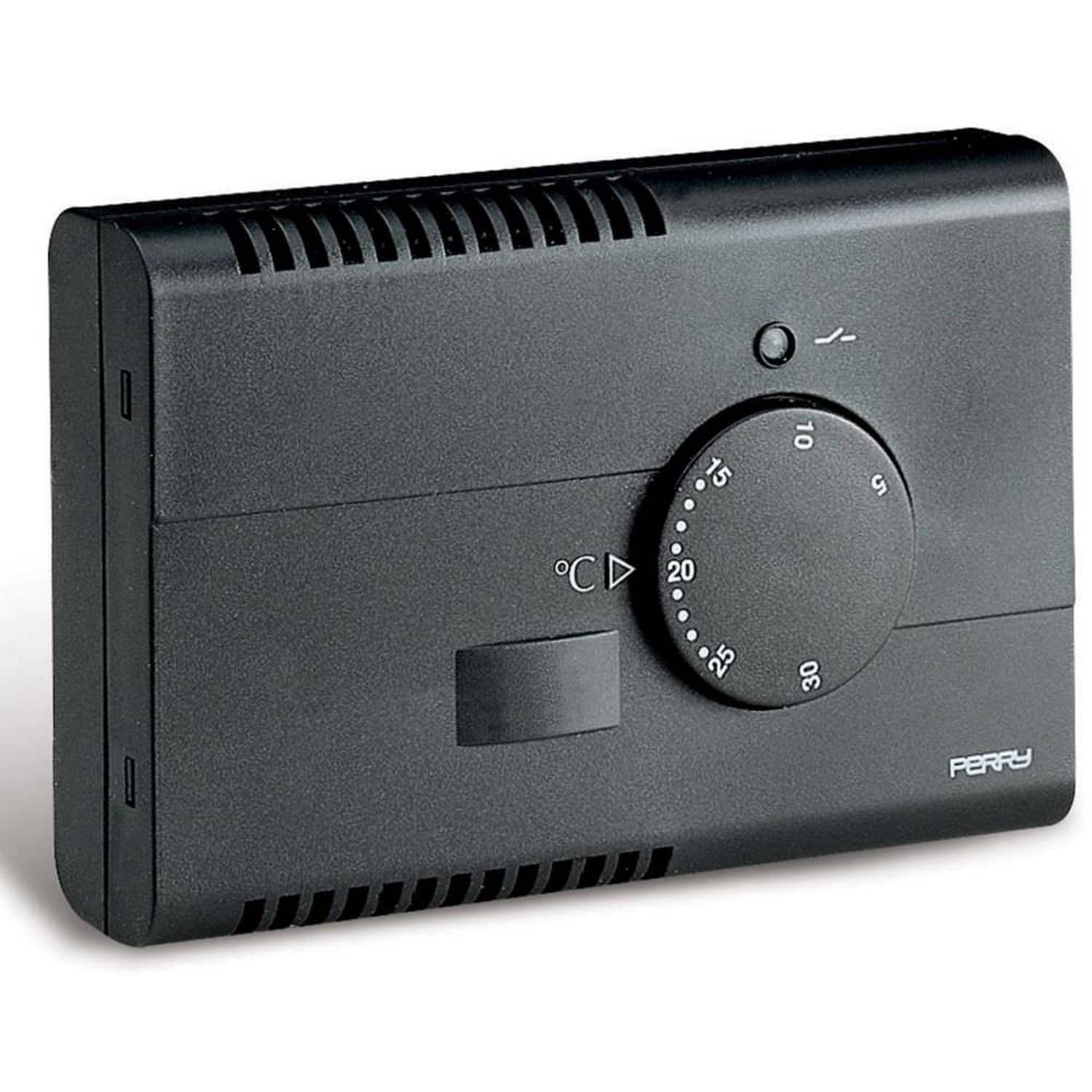 Details Perry Perry-1TPTE120-A

Power supply
230V~ 50 ÷ 60 Hz
Type Installation
Wall
Display Type
LED relay status indication
Degree of protection
IP30
CE marking regulations
EMC EN55104 LVD EN60730-1 EN60730-2-9
Insulation class
Class II
Temperature levels
Operation: 0°C ÷ 55°C
Assembly
Wall
Exit
NC/COM/NA 8 (2) A 250V
Max length between control unit and probes
Max probe 100 m
Color
Black
Measures
7,5x2,9x11,15
Weight
0
Barcode
8019108050291
Country of production
Italy
Vendor code
1TPTE120/A
End of promotion date
00:00:00
Comment
ELECTRONIC WALL THERMOSTAT
Note
black thermostat
Brand
Perry
Manual

---

Similar items Perry Perry-1TPTE120-A

---



DETAIL
Perry-1TPTE041 White electronic wall thermostat

White Perry 1TPTE041 EUROPA series Electronic wall thermostat EST/INV control ON/OFF operation with adjustable differential 0.2-2.5°C Led relay status indication 1 temperature level with continuous control 230V good and cheap thermostat

• wall thermostat
• perry thermostat
• winter summer thermostat
• electronic thermostat
• good and cheap thermostat


€ 46,1



---



DETAIL
Perry-1TPTE046 Perry white wall thermostat

White Perry 1TP TE046 EUROPA series wall thermostat ON/OFF control ON/OFF operation with adjustable differential 0.2-2.5°C Led relay status indication 1 temperature level with continuous regulation 230V wall thermostat for boiler

• wall thermostat
• perry thermostat
• boiler thermostat
• electronic thermostat
• wall thermostat


SPECIAL OFFER


€.51,54

€ 27,5



---



DETAIL
Perry-1TPTE065 Thermostat for electronic fan coil

Thermostat for electronic Fan Coil EUROPA series With EST/OFF/INV control 230V AC power supply 50-60Hz LED relay status indication LED status indication OFF product Colour white Set-point with mechanical temperature lock White wall thermostat

• wall thermostat
• fan coil thermostat
• wall thermostat
• electronic thermostat
• perry thermostat


€ 57,28



---



DETAIL
Perry-1TPTE120 White electronic wall thermostat

PERSONAL series white electronic wall thermostat with warning light Power supply 230V Remote input for night-time reduction -4°C on set-point value Set-point with mechanical temperature lock LED status indication electronic thermostat relay with warning l

• wall thermostat
• perry thermostat
• on-off thermostat
• electronic thermostat
• electronic thermostat with indicator light

€ 51,54



---



DETAIL
Perry-1TPTE036 Electronic wall thermostat and warning l

Perry electronic wall thermostat 1TPTE036 EUROPA series ON/OFF operation with adjustable differential 0.2-2.5°C Led relay status indication 1 temperature level Continuous control Colour White Power supply 230V thermostat good and cheap

• wall thermostat
• perry thermostat
• wall thermostat
• electronic wall thermostat
• electronic thermostat


€ 46,1



---



DETAIL
Perry-1TPTE122 White electronic wall thermostat

PERSONAL series electronic wall thermostat with EST/OFF/INV control, white colour Power supply 230V AC 50-60Hz Remote input for night reduction -4°C Set-point with mechanical temperature lock LED relay status indication Perry-1TPTE122

• wall thermostat
• perry thermostat
• east-off-inv thermostat
• electronic thermostat
• wall thermostat


€ 59,67



---



DETAIL
Perry-1TPTE122-A Thermostat for electronic wall black

PERSONAL series electronic wall thermostat with EST/OFF/INV control anthracite colour Power supply 230V AC 50-60Hz Remote input for night reduction -4°C Set-point with mechanical temperature lock LED relay status indication Perry-1TPTE122 A

• wall thermostat
• perry thermostat
• east thermostat off inv
• electronic thermostat
• thermostats


€ 59,67



---



DETAIL
Perry-1TPTE400-B Perry white wall thermostat

Perry 1TP TE400B SLIM 3V series analog digital wall thermostat White with ON/OFF/REDUCE NIGHT control Temperature levels 1 continuous control _ 1 reduced fixed LCD display 1 LED low battery and relay status 2 alkaline batteries 1.5V AAA

• wall thermostat
• perry thermostat
• wall thermostat
• digital thermostat
• battery thermostat


€ 57,3



---



DETAIL
Perry-1TPTE402-B White digital wall thermostat 3V

Perry 1TP TE402B SLIM 3V series analog digital wall thermostat White with EST/OFF/INV control Temperature levels 1 continuous control _ 1 reduced fixed LCD display 1 LED low battery and relay status Autonomy 12 months 2 alkaline batteries 1.5V AAA

• wall thermostat
• perry thermostat
• wall thermostat
• digital thermostat
• battery thermostat


€ 57,3



---



DETAIL
Perry-1TPTE410-B Digital wall thermostat white

Analog digital Perry 1TP TE410B SLIM 230V series wall thermostat White with ON/OFF/REDUCE NIGHT control Temperature levels 1 continuous control _ 1 reduced fixed LCD display 1 LED relay status Remote night reduction control input

• wall thermostat
• perry thermostat
• wall thermostat
• digital thermostat
• current thermostat


€ 70,15



---



DETAIL
Perry-1TPTE411-B Digital wall thermostat white

Analog digital Perry 1TP TE411B SLIM 230V series wall thermostat White colour with EST/OFF/INV control Temperature levels 1 continuous control _ 1 reduced fixed LCD display 1 LED relay status Remote night reduction control input

• wall thermostat
• perry thermostat
• wall thermostat
• digital thermostat
• current thermostat


€ 70,15



---



DETAIL
Perry-1TPTE500A Wall thermostat ZEFIRO series

Perry 1TP TE500A ZEFIRO series electronic wall thermostat with anthracite indicator Power supply 230V AC 50-60 Hz Installation from wall or semi-recessed 1 temperature level Night-time reduction remote input -4°C LED relay status and mains presence

• wall thermostat
• perry thermostat
• on-off thermostat
• electronic thermostat
• zefiro series thermostat


€ 51,36



---



DETAIL
Perry-1TPTE500B Perry white wall thermostat

Thermostat for electronic wall Perry 1TP TE500B ZEFIRO series with white indicator Power supply 230V AC 50-60 Hz Installation from wall or semi-recessed 1 temperature level Remote input night reduction -4°C LED relay status and presence network

• wall thermostat
• semi-recessed perry thermostat
• on-off thermostat
• electronic thermostat
• white wall thermostat


€ 51,36



---



DETAIL
Perry-1TPTE501A Perry wall thermostat 1TPTE501A

Perry 1TP TE501A ZEFIRO series electronic wall thermostat with anthracite indicator ON/OFF control ON/OFF operation Power supply 230V50-60 Hz Installation from wall or semi-recessed Remote input night reduction -4°C LED relay status and mains presence

• wall thermostat
• perry thermostat
• on-off thermostat
• electronic thermostat
• thermostats


€ 60,3



---



DETAIL
Perry-1TPTE501B White wall thermostat with current

White current wall thermostat Perry1TPTE501B ZEFIRO series with white indicator ON/OFF control ON/OFF operation Power supply 230V5 Installation from wall or semi-recessed Remote night reduction input -4°C LED relay status and mains presence

• wall thermostat
• semi-recessed perry thermostat
• on-off thermostat
• electronic thermostat
• wall thermostat


€ 60,3



---



DETAIL
Perry-1TPTE502B White thermostat with floor probe

Perry 1TP TE502B ZEFIRO series electronic wall thermostat with floor probe Colour White ON/OFF control Power supply 230V AC 50-60 Hz Wall or semi-recessed installation Adjustment 0/_60°C LED relay status and product OFF status

• wall thermostat
• semi-recessed perry thermostat
• on-off thermostat
• electronic thermostat
• floor probe thermostat


€ 71,77



---



DETAIL
Perry-1TPTE503A Wall thermostat summer winter

Perry 1TP TE503A ZEFIRO series electronic summer/winter wall thermostat with anthracite indicator EST/INV control Power supply 230V AC 50-60 Hz Installation from wall or semi-recessed Remote input night reduction -4°C LED relay status and mains presence

• wall thermostat
• semi-recessed perry thermostat
• winter summer thermostat
• electronic thermostat
• winter summer wall thermostat


€ 59,67



---



DETAIL
Perry-1TPTE503B Wall thermostat summer winter

Perry 1TP TE503B ZEFIRO series electronic wall thermostat with white indicator EST/INV control Power supply 230V AC 50-60 Hz Installation from wall or semi-recessed Remote input night reduction -4°C LED relay status, EST/INV and presence network

• wall thermostat
• semi-recessed perry thermostat
• winter summer thermostat
• electronic thermostat
• winter summer wall thermostat


€ 59,67



---



DETAIL
Perry-1TPTE526A Digital wall thermostat black

Digital wall thermostat Perry 1TP TE526A series ZEFIRO 3V anthracite LCD luminous display TOUCH SCREEN EST/INV control 2 temperature levels antifreeze 2 alkaline batteries 1.5V AAA Autonomy 24 months Real status and low battery indication

• wall thermostat
• digital thermostat
• battery thermostat
• touch screen thermostat
• black digital wall thermostat


€ 68,76



---



DETAIL
Perry-1TPTE526B Perry wall thermostat 1TPTE526B

Digital wall thermostat Perry 1TP TE526B series ZEFIRO 3V white bright LCD display TOUCH SCREEN EST/INV control 2 temperature levels antifreeze 2 alkaline batteries 1.5V AAA Autonomy 24 months Real status and low battery indication

• wall thermostat
• digital thermostat
• battery thermostat
• touch screen thermostat
• thermostats


€ 68,76



---



DETAIL
Perry-1TPTE530B White wall thermostat with batteries

White wall thermostat with batteries Perry 1TPTE530B series ZEFIRO 3V 80x80 white colour LCD display 2 1/3 temperature levels 2 _ antifreeze EST/INV control Power supply 2 alkaline batteries 1.5V AAA Autonomy 24 months Relay and low battery status indicat

• wall thermostat
• digital thermostat
• battery thermostat
• wall thermostat
• white wall thermostat with batteries

€ 42,09



---



DETAIL
Perry-1TPTE531B Wall to current thermostat

Digital wall thermostat Perry 1TP TE531B series ZEFIRO 230V 80 x 80 white colour LCD display 2 1/3 temperature levels 2 _ antifreeze Adjustable temperature for set of 0.1°C EST/INV control Lock temperature set Indication relay status

• wall thermostat
• perry thermostat
• winter summer thermostat
• digital thermostat
• current thermostat


€ 64,66



---



DETAIL
Perry-1TPTE532B Thermostat for public buildings on the w

Digital wall thermostat Perry 1TP TE532B series ZEFIRO 230V for public buildings 80x80 white LCD display 2 1/3 temperature levels 2 antifreeze Controls not accessible and reserved for installation technicians thermostat for public building

• wall thermostat
• perry thermostat
• winter summer thermostat
• thermostat for public buildings
• wall thermostat


€ 67,08



---



DETAIL
Perry-1TPTE565B Wall mounted fan coil thermostat white

Perry 1TP TE565B electronic wall thermostat ZEFIRO series for FAN COIL with EST/OFF/INV control White Colour 3-speed control LED relay status indication, EST/INV and mains presence 230V AC power supply 50-60 Hz

• wall thermostat
• perry thermostat
• fan coil thermostat
• electronic thermostat
• fan coil thermostat


€ 72,69



---



DETAIL
Perry-1TPTE566B Wall mounted fan coil thermostat white

Perry 1TP TE566B electronic wall thermostat ZEFIRO series for FAN COIL Colour White 3-speed control 1 temperature level 1 continuous control EST/INV control LED relay status and mains presence 230V AC power supply 50-60 Hz

• wall thermostat
• perry fan coil thermostat
• summer winter thermostat
• electronic thermostat
• fan coil thermostat


€ 70,42



---

Similar items Perry Perry-1TPTE120-A

---



DETAIL
Perry-1TPTE041 White electronic wall thermostat

White Perry 1TPTE041 EUROPA series Electronic wall thermostat EST/INV control ON/OFF operation with adjustable differential 0.2-2.5°C Led relay status indication 1 temperature level with continuous control 230V good and cheap thermostat

• wall thermostat
• perry thermostat
• winter summer thermostat
• electronic thermostat
• good and cheap thermostat


€ 46,1



---



DETAIL
Perry-1TPTE046 Perry white wall thermostat

White Perry 1TP TE046 EUROPA series wall thermostat ON/OFF control ON/OFF operation with adjustable differential 0.2-2.5°C Led relay status indication 1 temperature level with continuous regulation 230V wall thermostat for boiler

• wall thermostat
• perry thermostat
• boiler thermostat
• electronic thermostat
• wall thermostat


SPECIAL OFFER


€.51,54

€ 27,5



---



DETAIL
Perry-1TPTE065 Thermostat for electronic fan coil

Thermostat for electronic Fan Coil EUROPA series With EST/OFF/INV control 230V AC power supply 50-60Hz LED relay status indication LED status indication OFF product Colour white Set-point with mechanical temperature lock White wall thermostat

• wall thermostat
• fan coil thermostat
• wall thermostat
• electronic thermostat
• perry thermostat


€ 57,28



---



DETAIL
Perry-1TPTE120 White electronic wall thermostat

PERSONAL series white electronic wall thermostat with warning light Power supply 230V Remote input for night-time reduction -4°C on set-point value Set-point with mechanical temperature lock LED status indication electronic thermostat relay with warning l

• wall thermostat
• perry thermostat
• on-off thermostat
• electronic thermostat
• electronic thermostat with indicator light

€ 51,54



---



DETAIL
Perry-1TPTE036 Electronic wall thermostat and warning l

Perry electronic wall thermostat 1TPTE036 EUROPA series ON/OFF operation with adjustable differential 0.2-2.5°C Led relay status indication 1 temperature level Continuous control Colour White Power supply 230V thermostat good and cheap

• wall thermostat
• perry thermostat
• wall thermostat
• electronic wall thermostat
• electronic thermostat


€ 46,1



---



DETAIL
Perry-1TPTE122 White electronic wall thermostat

PERSONAL series electronic wall thermostat with EST/OFF/INV control, white colour Power supply 230V AC 50-60Hz Remote input for night reduction -4°C Set-point with mechanical temperature lock LED relay status indication Perry-1TPTE122

• wall thermostat
• perry thermostat
• east-off-inv thermostat
• electronic thermostat
• wall thermostat


€ 59,67



---



DETAIL
Perry-1TPTE122-A Thermostat for electronic wall black

PERSONAL series electronic wall thermostat with EST/OFF/INV control anthracite colour Power supply 230V AC 50-60Hz Remote input for night reduction -4°C Set-point with mechanical temperature lock LED relay status indication Perry-1TPTE122 A

• wall thermostat
• perry thermostat
• east thermostat off inv
• electronic thermostat
• thermostats


€ 59,67



---



DETAIL
Perry-1TPTE400-B Perry white wall thermostat

Perry 1TP TE400B SLIM 3V series analog digital wall thermostat White with ON/OFF/REDUCE NIGHT control Temperature levels 1 continuous control _ 1 reduced fixed LCD display 1 LED low battery and relay status 2 alkaline batteries 1.5V AAA

• wall thermostat
• perry thermostat
• wall thermostat
• digital thermostat
• battery thermostat


€ 57,3



---



DETAIL
Perry-1TPTE402-B White digital wall thermostat 3V

Perry 1TP TE402B SLIM 3V series analog digital wall thermostat White with EST/OFF/INV control Temperature levels 1 continuous control _ 1 reduced fixed LCD display 1 LED low battery and relay status Autonomy 12 months 2 alkaline batteries 1.5V AAA

• wall thermostat
• perry thermostat
• wall thermostat
• digital thermostat
• battery thermostat


€ 57,3



---



DETAIL
Perry-1TPTE410-B Digital wall thermostat white

Analog digital Perry 1TP TE410B SLIM 230V series wall thermostat White with ON/OFF/REDUCE NIGHT control Temperature levels 1 continuous control _ 1 reduced fixed LCD display 1 LED relay status Remote night reduction control input

• wall thermostat
• perry thermostat
• wall thermostat
• digital thermostat
• current thermostat


€ 70,15



---



DETAIL
Perry-1TPTE411-B Digital wall thermostat white

Analog digital Perry 1TP TE411B SLIM 230V series wall thermostat White colour with EST/OFF/INV control Temperature levels 1 continuous control _ 1 reduced fixed LCD display 1 LED relay status Remote night reduction control input

• wall thermostat
• perry thermostat
• wall thermostat
• digital thermostat
• current thermostat


€ 70,15



---



DETAIL
Perry-1TPTE500A Wall thermostat ZEFIRO series

Perry 1TP TE500A ZEFIRO series electronic wall thermostat with anthracite indicator Power supply 230V AC 50-60 Hz Installation from wall or semi-recessed 1 temperature level Night-time reduction remote input -4°C LED relay status and mains presence

• wall thermostat
• perry thermostat
• on-off thermostat
• electronic thermostat
• zefiro series thermostat


€ 51,36



---



DETAIL
Perry-1TPTE500B Perry white wall thermostat

Thermostat for electronic wall Perry 1TP TE500B ZEFIRO series with white indicator Power supply 230V AC 50-60 Hz Installation from wall or semi-recessed 1 temperature level Remote input night reduction -4°C LED relay status and presence network

• wall thermostat
• semi-recessed perry thermostat
• on-off thermostat
• electronic thermostat
• white wall thermostat


€ 51,36



---



DETAIL
Perry-1TPTE501A Perry wall thermostat 1TPTE501A

Perry 1TP TE501A ZEFIRO series electronic wall thermostat with anthracite indicator ON/OFF control ON/OFF operation Power supply 230V50-60 Hz Installation from wall or semi-recessed Remote input night reduction -4°C LED relay status and mains presence

• wall thermostat
• perry thermostat
• on-off thermostat
• electronic thermostat
• thermostats


€ 60,3



---



DETAIL
Perry-1TPTE501B White wall thermostat with current

White current wall thermostat Perry1TPTE501B ZEFIRO series with white indicator ON/OFF control ON/OFF operation Power supply 230V5 Installation from wall or semi-recessed Remote night reduction input -4°C LED relay status and mains presence

• wall thermostat
• semi-recessed perry thermostat
• on-off thermostat
• electronic thermostat
• wall thermostat


€ 60,3



---



DETAIL
Perry-1TPTE502B White thermostat with floor probe

Perry 1TP TE502B ZEFIRO series electronic wall thermostat with floor probe Colour White ON/OFF control Power supply 230V AC 50-60 Hz Wall or semi-recessed installation Adjustment 0/_60°C LED relay status and product OFF status

• wall thermostat
• semi-recessed perry thermostat
• on-off thermostat
• electronic thermostat
• floor probe thermostat


€ 71,77



---



DETAIL
Perry-1TPTE503A Wall thermostat summer winter

Perry 1TP TE503A ZEFIRO series electronic summer/winter wall thermostat with anthracite indicator EST/INV control Power supply 230V AC 50-60 Hz Installation from wall or semi-recessed Remote input night reduction -4°C LED relay status and mains presence

• wall thermostat
• semi-recessed perry thermostat
• winter summer thermostat
• electronic thermostat
• winter summer wall thermostat


€ 59,67



---



DETAIL
Perry-1TPTE503B Wall thermostat summer winter

Perry 1TP TE503B ZEFIRO series electronic wall thermostat with white indicator EST/INV control Power supply 230V AC 50-60 Hz Installation from wall or semi-recessed Remote input night reduction -4°C LED relay status, EST/INV and presence network

• wall thermostat
• semi-recessed perry thermostat
• winter summer thermostat
• electronic thermostat
• winter summer wall thermostat


€ 59,67



---



DETAIL
Perry-1TPTE526A Digital wall thermostat black

Digital wall thermostat Perry 1TP TE526A series ZEFIRO 3V anthracite LCD luminous display TOUCH SCREEN EST/INV control 2 temperature levels antifreeze 2 alkaline batteries 1.5V AAA Autonomy 24 months Real status and low battery indication

• wall thermostat
• digital thermostat
• battery thermostat
• touch screen thermostat
• black digital wall thermostat


€ 68,76



---



DETAIL
Perry-1TPTE526B Perry wall thermostat 1TPTE526B

Digital wall thermostat Perry 1TP TE526B series ZEFIRO 3V white bright LCD display TOUCH SCREEN EST/INV control 2 temperature levels antifreeze 2 alkaline batteries 1.5V AAA Autonomy 24 months Real status and low battery indication

• wall thermostat
• digital thermostat
• battery thermostat
• touch screen thermostat
• thermostats


€ 68,76



---



DETAIL
Perry-1TPTE530B White wall thermostat with batteries

White wall thermostat with batteries Perry 1TPTE530B series ZEFIRO 3V 80x80 white colour LCD display 2 1/3 temperature levels 2 _ antifreeze EST/INV control Power supply 2 alkaline batteries 1.5V AAA Autonomy 24 months Relay and low battery status indicat

• wall thermostat
• digital thermostat
• battery thermostat
• wall thermostat
• white wall thermostat with batteries

€ 42,09



---



DETAIL
Perry-1TPTE531B Wall to current thermostat

Digital wall thermostat Perry 1TP TE531B series ZEFIRO 230V 80 x 80 white colour LCD display 2 1/3 temperature levels 2 _ antifreeze Adjustable temperature for set of 0.1°C EST/INV control Lock temperature set Indication relay status

• wall thermostat
• perry thermostat
• winter summer thermostat
• digital thermostat
• current thermostat


€ 64,66



---



DETAIL
Perry-1TPTE532B Thermostat for public buildings on the w

Digital wall thermostat Perry 1TP TE532B series ZEFIRO 230V for public buildings 80x80 white LCD display 2 1/3 temperature levels 2 antifreeze Controls not accessible and reserved for installation technicians thermostat for public building

• wall thermostat
• perry thermostat
• winter summer thermostat
• thermostat for public buildings
• wall thermostat


€ 67,08



---



DETAIL
Perry-1TPTE565B Wall mounted fan coil thermostat white

Perry 1TP TE565B electronic wall thermostat ZEFIRO series for FAN COIL with EST/OFF/INV control White Colour 3-speed control LED relay status indication, EST/INV and mains presence 230V AC power supply 50-60 Hz

• wall thermostat
• perry thermostat
• fan coil thermostat
• electronic thermostat
• fan coil thermostat


€ 72,69



---



DETAIL
Perry-1TPTE566B Wall mounted fan coil thermostat white

Perry 1TP TE566B electronic wall thermostat ZEFIRO series for FAN COIL Colour White 3-speed control 1 temperature level 1 continuous control EST/INV control LED relay status and mains presence 230V AC power supply 50-60 Hz

• wall thermostat
• perry fan coil thermostat
• summer winter thermostat
• electronic thermostat
• fan coil thermostat


€ 70,42



0

---

Perry-1TPTE120-A

Perry

Black electronic wall thermostat
PERSONAL series electronic wall thermostat with anthracite indicator light 230V AC power supply Remote input -4°C night reduction on Set point value with mechanical temperature lock LED status indication electronic thermostat relay with indicator light
PERSONAL series electronic wall thermostat with anthracite indicator light 230V AC power supply Remote input -4°C night reduction on Set point value with mechanical temperature lock LED status indication electronic thermostat relay with indicator light

black

Product #:

1TPTE120/A

Price : EUR

51.54


Condition: New
Availability: InStock