Perry Perry wall mounted boiler thermostat Perry-1TPTE028A











Wall thermostat 3V anthracite colour with batteries NEXT series digital menu thermostat 4.3\" LCD display with backlighting and telephone or remote control input User password Timed backlighting Good and cheap thermostat on mpcshop.it


WALL THERMOSTAT 3V NEXT ANTHRACITE

Price List

€ 87,84

Price MPCshop

€ 69,99

Available


24 Pcs Estimated Delivery in 5 working days


All prices are VAT included





Bullet points Perry Perry-1TPTE028A

DIGITAL TERMOSTAT MENU NAVIGATION and LIGHT DISPLAY Wall installation
Wall thermostat with battery power supply Winter / Summer 2 levels of antifreeze temperature Input for remote contact Input for remote temperature probe
The electronic thermostat is suitable for all heating and / or cooling systems, has a clear backlit display to monitor all its functions in real time
Battery operated thermostat with ease of use through navigation amenù is the key feature, in fact, despite the completeness of its functions, it is very easy to use
To the good and cheap thermostat it is possible to connect a separate remote temperature probe (optional) and then set it according to your system needs: remote, floor, outdoor.

Wall thermostat 3V anthracite colour

Customers Reviews Perry Perry-1TPTE028A

---

Data: 11 February 2020
In addition to being a good and economical thermostat is definitely complete with all the functions that can serve the heating system of an apartment. Very useful the user password, I recommend it!


Wall thermostat 3V Perry 1TPTE028A anthracite color with batteries Digital menu thermostat NEXT series Display Lcd 4.3 backlit with telephone or remote control input User password Timed backlight Thermostat good and cheap on mpcshop.en

DIGITAL MENU NAVIGATION and LIGHT DISPLAY DIGITAL THERMOSTAT Wall installation Battery powered Winter / Summer 2 temperature levels antifreeze Input for remote contact Input for remote temperature probe

The battery operated thermostat is suitable for all heating and/or cooling systems, it is equipped with a clear backlit display to keep all its functions under control in real time. The ease of use through navigation amenù is the key feature, in fact, despite the completeness of its functions, is very easy to use. The thermostat, at the factory, adjusts the temperature in Differential ON/OFF mode and the hysteresis can be set from 0.2°C to 1.2°C to adapt to the thermal inertia of your specific system - alternatively it is possible to select the operation in Proportional modulating mode with adjustable duration cycles (from 7 to 20 minutes): this system allows to keep the desired temperature more stable, increasing the feeling of comfort for the user and is particularly suitable for systems with high thermal inertia such as, for example, for underfloor radiant panels. The factory set temperature scale is in Centigrade (Celsius) with the possibility to calibrate the room temperature measurement by setting a correction value (from -3 to 3 °C).

A separate remote temperature probe can be connected to the thermostat (optional) and then set it according to your system requirements: remote, floor, outdoor.

Special attention has been given to energy saving: the suspension of the temperature control for domestic cleaning, the optional block of the set set temperatures (MAX/MIN), the adjustable antifreeze temperature value, the control by means of an external contact (example telephone programmer as an option), allow to avoid energy waste with consequent economic saving

Main features of the electronic thermostat:

3V digital menu thermostat NEXT series anthracite color

Multilingual menu

3V - 2x1 power supply.5V AA alkaline

Lcd 4.3 backlit display

Backlit buttons

Potential-free deviation 1 contact output: 5(3)A/250VAC

On/Off operation with adjustable differential from 0.2 - 1.2°C or modulating with control period from 7 - 20 min

Temperature level 2 antifreeze

Adjustable temperature for set of 0.1°C

Suspension button for cleaning

Telephone or remote control input

Remote probe input

EAST/INV control

Pump activation program

Temperature set block


Password user

Installer password

Timed backlighting

Relay status indication

Correction t detection in function product positioning


Wall mounting

Adjustment range 5 - 37.7°C

Dimensions (WxDxH) 128.5 x 88.5 x 26 mm

Programming convenience
All setting operations can be carried out before attaching the thermostat to the wall base - this allows settings to be made from the comfort of your seat. Flashing ON with winter or fixed summer symbol and NO RELAY indicates that the thermostat is detached or not firmly attached to the wall base.



.

---

Wall thermostat for boiler 3V NEXT Perry 1TPTE028A Perry 1TPTE028A

Perry wall mounted boiler thermostat Perry-1TPTE028A
Wall thermostat 3V anthracite colour with batteries NEXT series digital menu thermostat 4.3\" LCD display with backlighting and telephone or remote control input User password Timed backlighting Good and cheap thermostat on mpcshop.it


WALL THERMOSTAT 3V NEXT ANTHRACITE

Price List

€ 87,84

Price MPCshop

€ 69,99

Available


24 Pcs Estimated Delivery in 5 working days


All prices are VAT included

Bullet points Perry Perry-1TPTE028A

DIGITAL TERMOSTAT MENU NAVIGATION and LIGHT DISPLAY Wall installation


Wall thermostat with battery power supply Winter / Summer 2 levels of antifreeze temperature Input for remote contact Input for remote temperature probe


The electronic thermostat is suitable for all heating and / or cooling systems, has a clear backlit display to monitor all its functions in real time


Battery operated thermostat with ease of use through navigation amenù is the key feature, in fact, despite the completeness of its functions, it is very easy to use


To the good and cheap thermostat it is possible to connect a separate remote temperature probe (optional) and then set it according to your system needs: remote, floor, outdoor.

Data: 11 febbraio 2020
oltre ad essere un termostato buono e economico è decisamente completo di tutte le funzioni che possano servire all'impianto di riscaldamento di un'appartamento. Molto utile la password utente, lo consiglio!

Wall thermostat 3V Perry 1TPTE028A anthracite color with batteries Digital menu thermostat NEXT series Display Lcd 4.3 backlit with telephone or remote control input User password Timed backlight Thermostat good and cheap on mpcshop.en
DIGITAL MENU NAVIGATION and LIGHT DISPLAY DIGITAL THERMOSTAT Wall installation Battery powered Winter / Summer 2 temperature levels antifreeze Input for remote contact Input for remote temperature probe
The battery operated thermostat is suitable for all heating and/or cooling systems, it is equipped with a clear backlit display to keep all its functions under control in real time. The ease of use through navigation amenù is the key feature, in fact, despite the completeness of its functions, is very easy to use. The thermostat, at the factory, adjusts the temperature in Differential ON/OFF mode and the hysteresis can be set from 0.2°C to 1.2°C to adapt to the thermal inertia of your specific system - alternatively it is possible to select the operation in Proportional modulating mode with adjustable duration cycles (from 7 to 20 minutes): this system allows to keep the desired temperature more stable, increasing the feeling of comfort for the user and is particularly suitable for systems with high thermal inertia such as, for example, for underfloor radiant panels. The factory set temperature scale is in Centigrade (Celsius) with the possibility to calibrate the room temperature measurement by setting a correction value (from -3 to 3 °C).
A separate remote temperature probe can be connected to the thermostat (optional) and then set it according to your system requirements: remote, floor, outdoor.
Special attention has been given to energy saving: the suspension of the temperature control for domestic cleaning, the optional block of the set set temperatures (MAX/MIN), the adjustable antifreeze temperature value, the control by means of an external contact (example telephone programmer as an option), allow to avoid energy waste with consequent economic saving
Main features of the electronic thermostat:

3V digital menu thermostat NEXT series anthracite color

Multilingual menu

3V - 2x1 power supply.5V AA alkaline

Lcd 4.3 backlit display

Backlit buttons

Potential-free deviation 1 contact output: 5(3)A/250VAC

On/Off operation with adjustable differential from 0.2 - 1.2°C or modulating with control period from 7 - 20 min

Temperature level 2 antifreeze

Adjustable temperature for set of 0.1°C

Suspension button for cleaning

Telephone or remote control input

Remote probe input

EAST/INV control

Pump activation program

Temperature set block


Password user

Installer password

Timed backlighting

Relay status indication

Correction t detection in function product positioning


Wall mounting

Adjustment range 5 - 37.7°C

Dimensions (WxDxH) 128.5 x 88.5 x 26 mm

Programming convenience
All setting operations can be carried out before attaching the thermostat to the wall base - this allows settings to be made from the comfort of your seat. Flashing ON with winter or fixed summer symbol and NO RELAY indicates that the thermostat is detached or not firmly attached to the wall base.



.
---
Wall thermostat for boiler 3V NEXT Perry 1TPTE028A Perry 1TPTE028A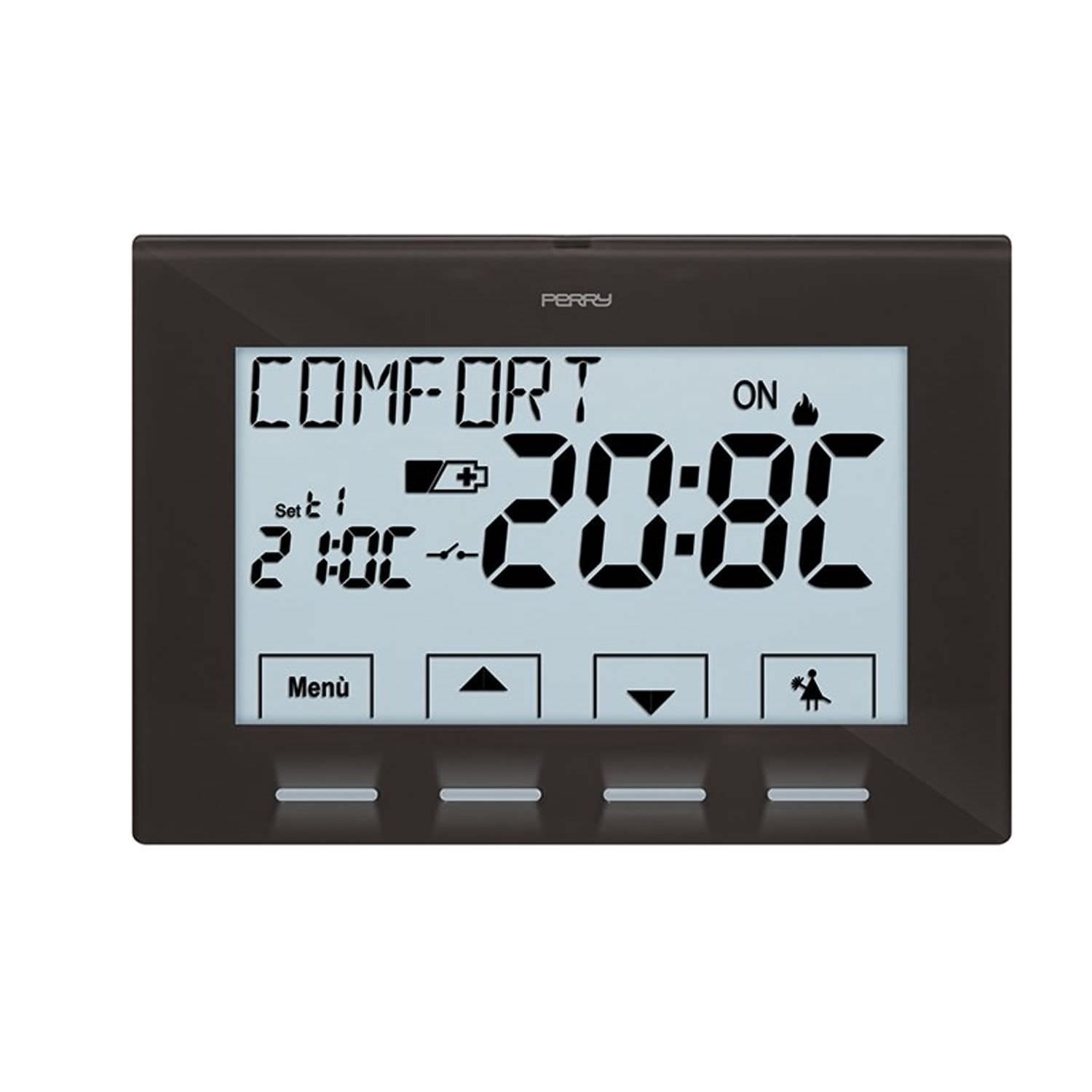 Details Perry Perry-1TPTE028A

Power supply
3V - 2x1.5V AA alkaline
Programming Type
ON/OFF or modulating
Type Installation
Wall
Display Type
Lcd 4.3
Temperature levels
2 + antifreeze
Suspension button for cleaning
Yes
EAST / INV command
Yes
Pump activation program
Yes
Telephone or remote control input
Yes
User and installer password
Yes
Assembly
Wall
Setting range
5 - 37.7°C
Exit
5(3)A/250Vc.a.
Backlighting
Timed
How it works
ON/OFF with adjustable differential from 0.2 - 1.2°C or modulating with control period from 7 - 20 min
Temperature blocking
Yes
Color
Black
Measures
2,6x8,85x12,85
Weight
0
Barcode
8019108050789
Country of production
Italy
Vendor code
1TPTE028A
End of promotion date
00:00:00
Comment
WALL THERMOSTAT 3V NEXT ANTHRACITE
Brand
Perry
Technical data sheet
Manual

---

Accessories Perry Perry-1TPTE028A

---



DETAIL
Perry-1PASTE02 REMOTE PROBE DETECT TEMP CABLE 4MT

REMOTE PROBE DETECT TEMP CABLE 4MT


€ 17,45



---

Accessories Perry Perry-1TPTE028A

---



DETAIL
Perry-1PASTE02 REMOTE PROBE DETECT TEMP CABLE 4MT


REMOTE PROBE DETECT TEMP CABLE 4MT


€ 17,45



---

Similar items Perry Perry-1TPTE028A

---



DETAIL
Perry-1TPTE028B Thermostat for white boiler with batteri

Wall thermostat 3V white colour with batteries Digital menu thermostat NEXT series Backlit LCD 4.3\" display with telephone or remote control input User password Timed backlighting Good and cheap thermostat on mpcshop.it

• electronic thermostat
• wall thermostat
• good and cheap thermostat
• battery operated thermostat
• boiler thermostat


€ 69,99



---



DETAIL
Perry-1TPTE029B Wall mounted boiler thermostat white

Wall thermostat 230V white colour Digital menu thermostat 230V \"NEXT\" series Backlit LCD 4.3\" display with telephone or remote control input User password Timed backlighting Good and cheap thermostat on mpcshop.it

• electronic thermostat
• wall thermostat
• good and cheap thermostat
• white thermostat
• boiler thermostat


€ 76,25



---



DETAIL
Perry-1TPTE029A Perry 230V digital wall thermostat

Wall thermostat 230V anthracite colour Digital menu thermostat 230V \"NEXT\" series Backlit LCD 4.3\" display with telephone or remote control input User password Timed backlighting Good and cheap thermostat on mpcshop.it

• electronic thermostat
• wall thermostat
• good and cheap thermostat
• 230v thermostat
• boiler thermostat


€ 76,25



---



DETAIL
Perry-1TPTE530B White wall thermostat with batteries

White wall thermostat with batteries Perry 1TPTE530B series ZEFIRO 3V 80x80 white colour LCD display 2 1/3 temperature levels 2 _ antifreeze EST/INV control Power supply 2 alkaline batteries 1.5V AAA Autonomy 24 months Relay and low battery status indicat

• wall thermostat
• digital thermostat
• battery thermostat
• wall thermostat
• white wall thermostat with batteries

€ 42,09



---



DETAIL
Perry-1TPTE531B Wall to current thermostat

Digital wall thermostat Perry 1TP TE531B series ZEFIRO 230V 80 x 80 white colour LCD display 2 1/3 temperature levels 2 _ antifreeze Adjustable temperature for set of 0.1°C EST/INV control Lock temperature set Indication relay status

• wall thermostat
• perry thermostat
• winter summer thermostat
• digital thermostat
• current thermostat


€ 64,66



---



DETAIL
Perry-1TPTE532B Thermostat for public buildings on the w

Digital wall thermostat Perry 1TP TE532B series ZEFIRO 230V for public buildings 80x80 white LCD display 2 1/3 temperature levels 2 antifreeze Controls not accessible and reserved for installation technicians thermostat for public building

• wall thermostat
• perry thermostat
• winter summer thermostat
• thermostat for public buildings
• wall thermostat


€ 67,08



---



DETAIL
Perry-1TPTE400-B Perry white wall thermostat

Perry 1TP TE400B SLIM 3V series analog digital wall thermostat White with ON/OFF/REDUCE NIGHT control Temperature levels 1 continuous control _ 1 reduced fixed LCD display 1 LED low battery and relay status 2 alkaline batteries 1.5V AAA

• wall thermostat
• perry thermostat
• wall thermostat
• digital thermostat
• battery thermostat


€ 57,3



---



DETAIL
Perry-1TPTE410-B Digital wall thermostat white

Analog digital Perry 1TP TE410B SLIM 230V series wall thermostat White with ON/OFF/REDUCE NIGHT control Temperature levels 1 continuous control _ 1 reduced fixed LCD display 1 LED relay status Remote night reduction control input

• wall thermostat
• perry thermostat
• wall thermostat
• digital thermostat
• current thermostat


€ 70,15



---



DETAIL
Perry-1TPTE402-B White digital wall thermostat 3V

Perry 1TP TE402B SLIM 3V series analog digital wall thermostat White with EST/OFF/INV control Temperature levels 1 continuous control _ 1 reduced fixed LCD display 1 LED low battery and relay status Autonomy 12 months 2 alkaline batteries 1.5V AAA

• wall thermostat
• perry thermostat
• wall thermostat
• digital thermostat
• battery thermostat


€ 57,3



---



DETAIL
Perry-1TPTE411-B Digital wall thermostat white

Analog digital Perry 1TP TE411B SLIM 230V series wall thermostat White colour with EST/OFF/INV control Temperature levels 1 continuous control _ 1 reduced fixed LCD display 1 LED relay status Remote night reduction control input

• wall thermostat
• perry thermostat
• wall thermostat
• digital thermostat
• current thermostat


€ 70,15



---



DETAIL
Perry-1TPTE526B Perry wall thermostat 1TPTE526B

Digital wall thermostat Perry 1TP TE526B series ZEFIRO 3V white bright LCD display TOUCH SCREEN EST/INV control 2 temperature levels antifreeze 2 alkaline batteries 1.5V AAA Autonomy 24 months Real status and low battery indication

• wall thermostat
• digital thermostat
• battery thermostat
• touch screen thermostat
• thermostats


€ 68,76



---



DETAIL
Perry-1TPTE526A Digital wall thermostat black

Digital wall thermostat Perry 1TP TE526A series ZEFIRO 3V anthracite LCD luminous display TOUCH SCREEN EST/INV control 2 temperature levels antifreeze 2 alkaline batteries 1.5V AAA Autonomy 24 months Real status and low battery indication

• wall thermostat
• digital thermostat
• battery thermostat
• touch screen thermostat
• black digital wall thermostat


€ 68,76



---

Similar items Perry Perry-1TPTE028A

---



DETAIL
Perry-1TPTE028B Thermostat for white boiler with batteri

Wall thermostat 3V white colour with batteries Digital menu thermostat NEXT series Backlit LCD 4.3\" display with telephone or remote control input User password Timed backlighting Good and cheap thermostat on mpcshop.it

• electronic thermostat
• wall thermostat
• good and cheap thermostat
• battery operated thermostat
• boiler thermostat


€ 69,99



---



DETAIL
Perry-1TPTE029B Wall mounted boiler thermostat white

Wall thermostat 230V white colour Digital menu thermostat 230V \"NEXT\" series Backlit LCD 4.3\" display with telephone or remote control input User password Timed backlighting Good and cheap thermostat on mpcshop.it

• electronic thermostat
• wall thermostat
• good and cheap thermostat
• white thermostat
• boiler thermostat


€ 76,25



---



DETAIL
Perry-1TPTE029A Perry 230V digital wall thermostat

Wall thermostat 230V anthracite colour Digital menu thermostat 230V \"NEXT\" series Backlit LCD 4.3\" display with telephone or remote control input User password Timed backlighting Good and cheap thermostat on mpcshop.it

• electronic thermostat
• wall thermostat
• good and cheap thermostat
• 230v thermostat
• boiler thermostat


€ 76,25



---



DETAIL
Perry-1TPTE530B White wall thermostat with batteries

White wall thermostat with batteries Perry 1TPTE530B series ZEFIRO 3V 80x80 white colour LCD display 2 1/3 temperature levels 2 _ antifreeze EST/INV control Power supply 2 alkaline batteries 1.5V AAA Autonomy 24 months Relay and low battery status indicat

• wall thermostat
• digital thermostat
• battery thermostat
• wall thermostat
• white wall thermostat with batteries

€ 42,09



---



DETAIL
Perry-1TPTE531B Wall to current thermostat

Digital wall thermostat Perry 1TP TE531B series ZEFIRO 230V 80 x 80 white colour LCD display 2 1/3 temperature levels 2 _ antifreeze Adjustable temperature for set of 0.1°C EST/INV control Lock temperature set Indication relay status

• wall thermostat
• perry thermostat
• winter summer thermostat
• digital thermostat
• current thermostat


€ 64,66



---



DETAIL
Perry-1TPTE532B Thermostat for public buildings on the w

Digital wall thermostat Perry 1TP TE532B series ZEFIRO 230V for public buildings 80x80 white LCD display 2 1/3 temperature levels 2 antifreeze Controls not accessible and reserved for installation technicians thermostat for public building

• wall thermostat
• perry thermostat
• winter summer thermostat
• thermostat for public buildings
• wall thermostat


€ 67,08



---



DETAIL
Perry-1TPTE400-B Perry white wall thermostat

Perry 1TP TE400B SLIM 3V series analog digital wall thermostat White with ON/OFF/REDUCE NIGHT control Temperature levels 1 continuous control _ 1 reduced fixed LCD display 1 LED low battery and relay status 2 alkaline batteries 1.5V AAA

• wall thermostat
• perry thermostat
• wall thermostat
• digital thermostat
• battery thermostat


€ 57,3



---



DETAIL
Perry-1TPTE410-B Digital wall thermostat white

Analog digital Perry 1TP TE410B SLIM 230V series wall thermostat White with ON/OFF/REDUCE NIGHT control Temperature levels 1 continuous control _ 1 reduced fixed LCD display 1 LED relay status Remote night reduction control input

• wall thermostat
• perry thermostat
• wall thermostat
• digital thermostat
• current thermostat


€ 70,15



---



DETAIL
Perry-1TPTE402-B White digital wall thermostat 3V

Perry 1TP TE402B SLIM 3V series analog digital wall thermostat White with EST/OFF/INV control Temperature levels 1 continuous control _ 1 reduced fixed LCD display 1 LED low battery and relay status Autonomy 12 months 2 alkaline batteries 1.5V AAA

• wall thermostat
• perry thermostat
• wall thermostat
• digital thermostat
• battery thermostat


€ 57,3



---



DETAIL
Perry-1TPTE411-B Digital wall thermostat white

Analog digital Perry 1TP TE411B SLIM 230V series wall thermostat White colour with EST/OFF/INV control Temperature levels 1 continuous control _ 1 reduced fixed LCD display 1 LED relay status Remote night reduction control input

• wall thermostat
• perry thermostat
• wall thermostat
• digital thermostat
• current thermostat


€ 70,15



---



DETAIL
Perry-1TPTE526B Perry wall thermostat 1TPTE526B

Digital wall thermostat Perry 1TP TE526B series ZEFIRO 3V white bright LCD display TOUCH SCREEN EST/INV control 2 temperature levels antifreeze 2 alkaline batteries 1.5V AAA Autonomy 24 months Real status and low battery indication

• wall thermostat
• digital thermostat
• battery thermostat
• touch screen thermostat
• thermostats


€ 68,76



---



DETAIL
Perry-1TPTE526A Digital wall thermostat black

Digital wall thermostat Perry 1TP TE526A series ZEFIRO 3V anthracite LCD luminous display TOUCH SCREEN EST/INV control 2 temperature levels antifreeze 2 alkaline batteries 1.5V AAA Autonomy 24 months Real status and low battery indication

• wall thermostat
• digital thermostat
• battery thermostat
• touch screen thermostat
• black digital wall thermostat


€ 68,76



0

---

Perry-1TPTE028A

Perry

Perry wall mounted boiler thermostat
Wall thermostat 3V anthracite colour with batteries NEXT series digital menu thermostat 4.3\" LCD display with backlighting and telephone or remote control input User password Timed backlighting Good and cheap thermostat on mpcshop.it
Wall thermostat 3V anthracite colour with batteries NEXT series digital menu thermostat 4.3\" LCD display with backlighting and telephone or remote control input User password Timed backlighting Good and cheap thermostat on mpcshop.it

black

Product #:

1TPTE028A

Price : EUR

69.99


Condition: New
Availability: InStock