Solar showers with a low price

In our catalogue it is not difficult to find ecological showers at a good price, just look at the models in the RIO series.

The ecological garden shower, which belongs to this series, has been designed and manufactured for intensive, even public use.

Basically, it is an ecological outdoor shower finished in every smallest detail, and with its elegant curved design you can place it anywhere, a true element of outdoor furniture.

It ranges from the classic 26-litre solar shower to the maxi 40-litre shower in no less than 5 colour variants!

The low price is not the only thing that sets them apart, high-tech construction technology and exclusive design make them true pieces of furniture.

Decidedly beautiful and innovative, they are made of PEHD, non-toxic high molecular density polyethylene, highly resistant to atmospheric agents, UV rays and chemical agents. Large shower head for optimal water distribution.

Italian design and total control of the construction chain, to comply with strict European regulations.

Remember that the darker the colour, the greater the sun`s heat yield. Always position in the sunniest area during the day.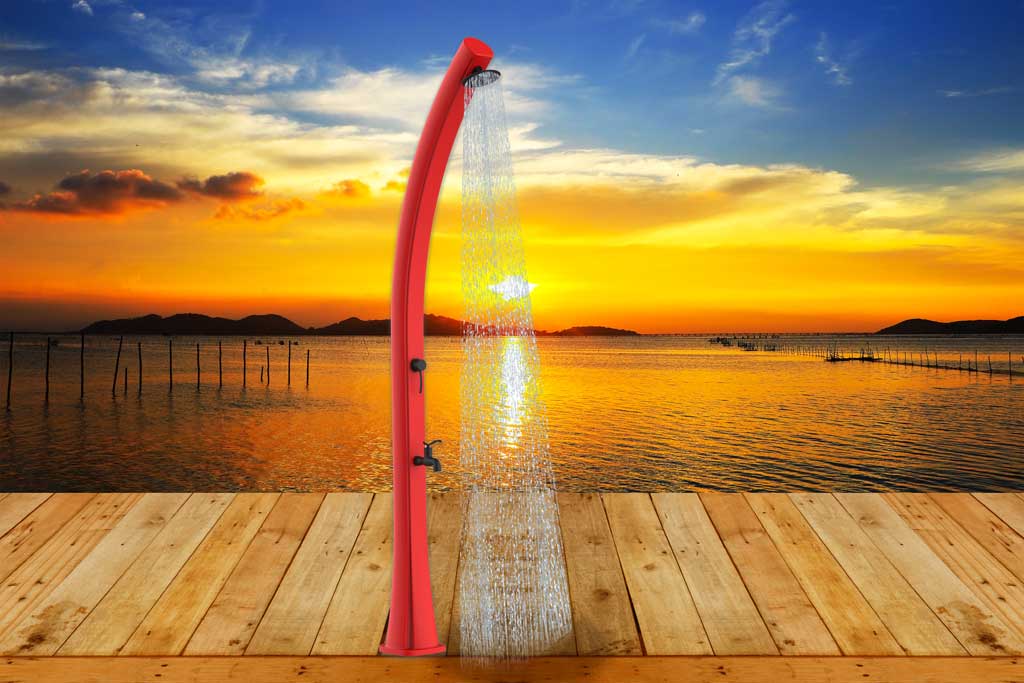 ---
The lowest price for solar shower ? Both AS BEST PRICE AND QUANTITY click on the image below to find out how to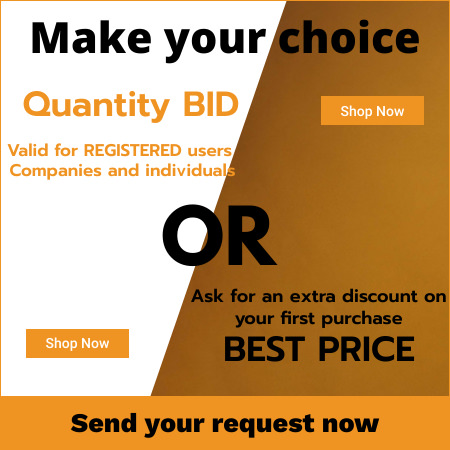 DOCCIASOLARE-RIO-BIANCO White shower hot water from the sun

White shower with solar heating model Rio. Curved structure in HD Polyethylene, ideal for garden, swimming pool and outdoor activities. Height 226 cm Round shower head diameter 15 cm Tank 22 Liters with Foot Washing Accessories and Taps in brass.
Product dimensions cm: 20x21x226 Package dimensions cm: 22x22x233 Weight Kg: 7,7 Gross weight Kg: 10
White with chrome accessories
DOCCIASOLARE-RIO-BIANCO-BLACKMATT White shower hot water from the sun

White shower with solar heating model Rio. Curved structure in HD Polyethylene, ideal for garden, swimming pool and outdoor activities. Height 226 cm Round shower head diameter 15 cm Tank 22 Liters with Foot Washing Accessories and Taps in brass.
Product dimensions cm: 20x21x226 Package dimensions cm: 22x22x233 Weight Kg: 7,7 Gross weight Kg: 10
White with black accessories Black
DOCCIASOLARE-RIO-BLU Blue shower hot water from the sun

Blue shower with solar heating model Rio. Curved structure in HD Polyethylene, ideal for garden, swimming pool and outdoor activities. Height 226 cm Round shower head diameter 15 cm Tank 22 Liters with Foot Washing Accessories and Taps in brass.
Product dimensions cm: 20x21x226 Package dimensions cm: 22x22x233 Weight Kg: 7,7 Gross weight Kg: 10
Blue with chrome accessories



€ 248,99 Vat included






DOCCIASOLARE-RIO-BLU-BLACKMATT Blue shower hot water from the sun

Blue shower with solar heating model Rio. Curved structure in HD Polyethylene, ideal for garden, swimming pool and outdoor activities. Height 226 cm Round shower head diameter 15 cm Tank 22 Liters with Foot Washing Accessories and Taps in brass.
Product dimensions cm: 20x21x226 Package dimensions cm: 0 Weight Kg: 7,7 Gross weight Kg: 10
Blue with black accessories
€ 248,99
€ 174,29 Vat included






DOCCIASOLARE-RIO-GRIGIO Gray hot water shower with sunshine

Gray shower with solar heating model Rio. Curved structure in HD Polyethylene, ideal for garden, swimming pool and outdoor activities. Height 226 cm Round shower head diameter 15 cm Tank 22 Liters with Foot Washing Accessories and Taps in brass.
Product dimensions cm: 20x21x226 Package dimensions cm: 22x22x233 Weight Kg: 7,7 Gross weight Kg: 10
Grey with chromed accessories



€ 248,99 Vat included






DOCCIASOLARE-RIO-NERO Black shower hot water from the sun

Black shower with solar heating model Rio. Curved structure in HD Polyethylene, ideal for garden, swimming pool and outdoor activities. Height 226 cm Round shower head diameter 15 cm Tank 22 Liters with Foot Washing Accessories and Taps in brass.
Product dimensions cm: 20x21x226 Package dimensions cm: 22x22x233 Weight Kg: 7,7 Gross weight Kg: 10
Blue with chrome accessories



€ 248,99 Vat included






DOCCIASOLARE-RIO-NERO-BLACKMATT Solar shower black hot water from sun

Black shower with solar heating model Rio. Curved structure in HD Polyethylene, ideal for garden, swimming pool and outdoor activities. Height 226 cm Round shower head diameter 15 cm Tank 22 Liters with Foot Washing Accessories and Taps in brass.
Product dimensions cm: 20x21x226 Package dimensions cm: 22x22x233 Weight Kg: 7,7 Gross weight Kg: 10
Black with black accessories Black
€ 248,99
€ 174,29 Vat included






DOCCIASOLARE-RIO-ROSSO Red shower hot water from the sun

Red shower with solar heating model Rio. Curved structure in HD Polyethylene, ideal for garden, swimming pool and outdoor activities. Height 226 cm Round shower head diameter 15 cm Tank 22 Liters with Foot Washing Accessories and Taps in brass.
Product dimensions cm: 20x21x226 Package dimensions cm: 22x22x233 Weight Kg: 7,7 Gross weight Kg: 10
Red with chromed accessories



€ 248,99 Vat included






DOCCIASOLARE-RIO-ROSSO-BLACKMATT Red shower hot water from the sun

Red shower with solar heating model Rio. Curved structure in HD Polyethylene, ideal for garden, swimming pool and outdoor activities. Height 226 cm Round shower head diameter 15 cm Tank 22 Liters with Foot Washing Accessories and Taps in brass.
Product dimensions cm: 20x21x226 Package dimensions cm: 0 Weight Kg: 7,7 Gross weight Kg: 10
Red with black accessories
€ 248,99
€ 174,29 Vat included






DOCCIASOLARE-RIOXXL-BIANCO XXL white shower hot water from the sun

White shower with solar heating model Rio XXL. Curved structure in HD Polyethylene, ideal for garden, swimming pool and outdoor activities. Height 226 cm Round shower head diameter 15 cm Tank 40 liters with foot wash Accessories and brass taps
Product dimensions cm: 25x27x226,6 Package dimensions cm: 17x29x230 Weight Kg: 13,5 Gross weight Kg: 15
White with chrome accessories
DOCCIASOLARE-RIOXXL-BIANCO-BLACKMATT New white shower solar heating

White shower with solar heating model Rio XXL BLACKMATT. Curved structure in Polyethylene HD, ideal for garden, pool and outdoor activities. Height 226 cm Round shower head diameter 15 cm Tank 40 liters with foot wash and black accessories.
Product dimensions cm: 25x27x226,6 Package dimensions cm: 17x29x230 Weight Kg: 13,5 Gross weight Kg: 15
White with black accessories Black
DOCCIASOLARE-RIOXXL-BLU Shower XXL 40 blue hot water from the su

Blue shower with solar heating model Rio XXL. Curved structure in HD Polyethylene, ideal for garden, pool and outdoor activities. Height 226 cm Round shower head diameter 15 cm Tank 40 liters with foot wash Accessories and brass taps
Product dimensions cm: 25x27x226,6 Package dimensions cm: 17x29x230 Weight Kg: 13,5 Gross weight Kg: 15
Blue with chrome accessories



€ 359 Vat included






DOCCIASOLARE-RIOXXL-BLU-BLACKMATT Shower XXL 40 blue hot water from the su

Blue shower with solar heating model Rio XXL. Curved structure in HD Polyethylene, ideal for garden, pool and outdoor activities. Height 226 cm Round shower head diameter 15 cm Tank 40 liters with foot wash Accessories and brass taps
Product dimensions cm: 25x27x226,6 Package dimensions cm: 0 Weight Kg: 13,5 Gross weight Kg: 15
Blue with black accessories
€ 359
€ 251,3 Vat included






DOCCIASOLARE-RIOXXL-GRIGIO XXL grey shower hot water from the sun

Gray solar heated shower model Rio XXL. Curved structure in HD Polyethylene, ideal for garden, swimming pool and outdoor activities. Height 226 cm Round shower head diameter 15 cm Tank 40 liters with foot wash Accessories and brass taps
Product dimensions cm: 25x27x226,6 Package dimensions cm: 17x29x230 Weight Kg: 13,5 Gross weight Kg: 15
Grey with chromed accessories
€ 359
€ 251,3 Vat included






DOCCIASOLARE-RIOXXL-NERO Shower XXL 40 black hot water from the s

Black solar heated shower model Rio XXL. Curved structure in HD Polyethylene, ideal for garden, pool and outdoor activities. Height 226 cm Round shower head diameter 15 cm Tank 40 liters with foot wash Accessories and brass taps
Product dimensions cm: 25x27x226,6 Package dimensions cm: 17x29x230 Weight Kg: 13,5 Gross weight Kg: 15
Blue with chrome accessories



€ 359 Vat included






DOCCIASOLARE-RIOXXL-NERO-BLACKMATT New solar heated black shower

Solar heated black shower model Rio XXL BLACKMATT. Curved structure in HD Polyethylene, ideal for garden, pool and outdoor activities. Height 226 cm Round shower head diameter 15 cm Tank 40 liters with foot wash and black accessories.
Product dimensions cm: 25x27x226,6 Package dimensions cm: 17x29x230 Weight Kg: 13,5 Gross weight Kg: 15
Black with black accessories Black
€ 359
€ 251,3 Vat included






DOCCIASOLARE-RIOXXL-ROSSO Shower XXL 40 red hot water from the sun

Red solar heated shower model Rio XXL. Curved structure in HD Polyethylene, ideal for garden, swimming pool and outdoor activities. Height 226 cm Round shower head diameter 15 cm Tank 40 liters with foot wash Accessories and brass taps
Product dimensions cm: 25x27x226,6 Package dimensions cm: 17x29x230 Weight Kg: 13,5 Gross weight Kg: 15
Red with chromed accessories



€ 359 Vat included






DOCCIASOLARE-RIOXXL-ROSSO-BLACKMATT Shower XXL 40 red hot water from the sun

Red solar heated shower model Rio XXL. Curved structure in HD Polyethylene, ideal for garden, swimming pool and outdoor activities. Height 226 cm Round shower head diameter 15 cm Tank 40 liters with foot wash Accessories and brass taps
Product dimensions cm: 25x27x226,6 Package dimensions cm: 0 Weight Kg: 13,5 Gross weight Kg: 15
Red with black accessories
€ 359
€ 251,3 Vat included