The new solar-heated showers of the RIO series have arrived!

Beautiful, large, finished throughout, they will keep you company all summer long!

From 22 to 40 litres capacity, they will provide you with plenty of free hot showers all day long. Designed for private use, they are also valued for commercial and hotel activities.

Piscan, garden, bathing establishment, campsite, hotel and outdoor activities can benefit from these useful solar showers.

Solar heating showers in the MPCshop house with the latest models of the RIO series, in no less than 5 different and all fashionable colours.

Exclusive brass accessories, a 20 cm round shower head, and 12 kgs silicone inner hoses make these showers elements made with the latest technology.

MPCshop.co.uk offers models that have evolved from the classic solar shower for private individuals to a full-fledged heating shower that can meet the most diverse demands for use, even commercial ones!

Take advantage of the new solar showers that mpcshop offers in its online catalogue, you will always find affordable prices and unique technical features.

When buying, keep in mind that a darker colour warms the water inside the shower sooner!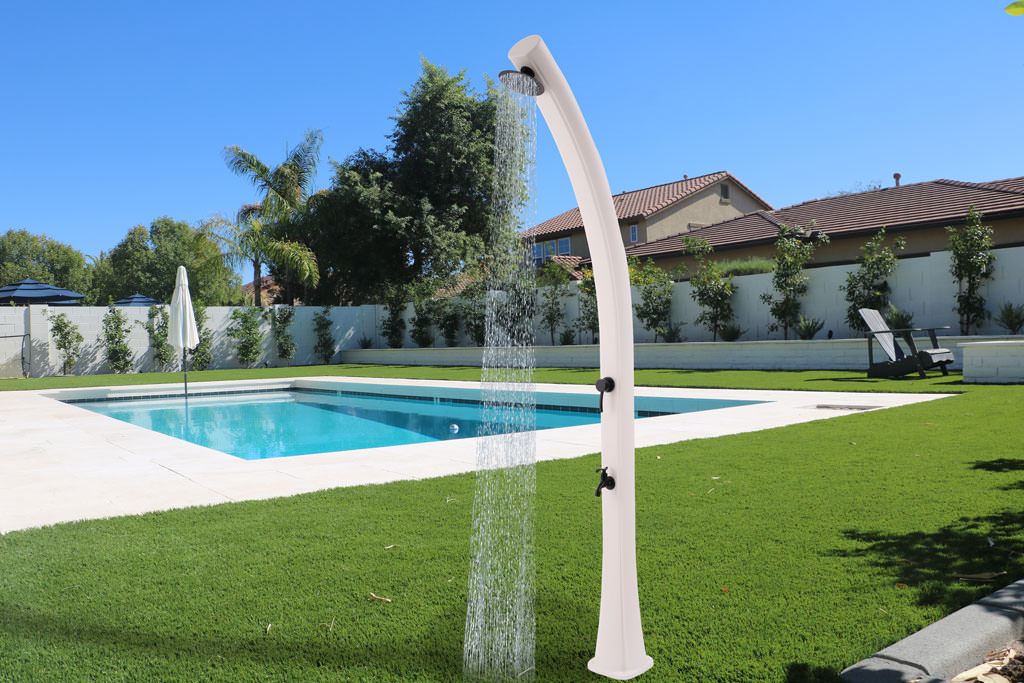 ---
Want to furnish with a solar shower?
you can, and all our showers are eligible for special offers both
AS BEST PRICE AND QUANTITY
click on the image below to find out how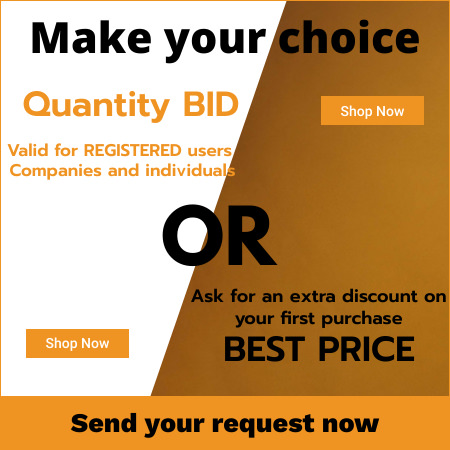 ---
DOCCIASOLARE-RIO-BIANCO White shower hot water from the sun

White shower with solar heating model Rio. Curved structure in HD Polyethylene, ideal for garden, swimming pool and outdoor activities. Height 226 cm Round shower head diameter 15 cm Tank 22 Liters with Foot Washing Accessories and Taps in brass.
Product dimensions cm: 20x21x226 Package dimensions cm: 22x22x233 Weight Kg: 7,7 Gross weight Kg: 10
White with chrome accessories
DOCCIASOLARE-RIO-BIANCO-BLACKMATT White shower hot water from the sun

White shower with solar heating model Rio. Curved structure in HD Polyethylene, ideal for garden, swimming pool and outdoor activities. Height 226 cm Round shower head diameter 15 cm Tank 22 Liters with Foot Washing Accessories and Taps in brass.
Product dimensions cm: 20x21x226 Package dimensions cm: 22x22x233 Weight Kg: 7,7 Gross weight Kg: 10
White with black accessories Black
DOCCIASOLARE-RIO-BLU Blue shower hot water from the sun

Blue shower with solar heating model Rio. Curved structure in HD Polyethylene, ideal for garden, swimming pool and outdoor activities. Height 226 cm Round shower head diameter 15 cm Tank 22 Liters with Foot Washing Accessories and Taps in brass.
Product dimensions cm: 20x21x226 Package dimensions cm: 22x22x233 Weight Kg: 7,7 Gross weight Kg: 10
Blue with chrome accessories



€ 248,99 Vat included






DOCCIASOLARE-RIO-BLU-BLACKMATT Blue shower hot water from the sun

Blue shower with solar heating model Rio. Curved structure in HD Polyethylene, ideal for garden, swimming pool and outdoor activities. Height 226 cm Round shower head diameter 15 cm Tank 22 Liters with Foot Washing Accessories and Taps in brass.
Product dimensions cm: 20x21x226 Package dimensions cm: 0 Weight Kg: 7,7 Gross weight Kg: 10
Blue with black accessories



€ 248,99 Vat included






DOCCIASOLARE-RIO-GRIGIO Gray hot water shower with sunshine

Gray shower with solar heating model Rio. Curved structure in HD Polyethylene, ideal for garden, swimming pool and outdoor activities. Height 226 cm Round shower head diameter 15 cm Tank 22 Liters with Foot Washing Accessories and Taps in brass.
Product dimensions cm: 20x21x226 Package dimensions cm: 22x22x233 Weight Kg: 7,7 Gross weight Kg: 10
Grey with chromed accessories



€ 248,99 Vat included






DOCCIASOLARE-RIO-NERO Black shower hot water from the sun

Black shower with solar heating model Rio. Curved structure in HD Polyethylene, ideal for garden, swimming pool and outdoor activities. Height 226 cm Round shower head diameter 15 cm Tank 22 Liters with Foot Washing Accessories and Taps in brass.
Product dimensions cm: 20x21x226 Package dimensions cm: 22x22x233 Weight Kg: 7,7 Gross weight Kg: 10
Blue with chrome accessories



€ 248,99 Vat included






DOCCIASOLARE-RIO-NERO-BLACKMATT Solar shower black hot water from sun

Black shower with solar heating model Rio. Curved structure in HD Polyethylene, ideal for garden, swimming pool and outdoor activities. Height 226 cm Round shower head diameter 15 cm Tank 22 Liters with Foot Washing Accessories and Taps in brass.
Product dimensions cm: 20x21x226 Package dimensions cm: 22x22x233 Weight Kg: 7,7 Gross weight Kg: 10
Black with black accessories Black



€ 248,99 Vat included






DOCCIASOLARE-RIO-ROSSO Red shower hot water from the sun

Red shower with solar heating model Rio. Curved structure in HD Polyethylene, ideal for garden, swimming pool and outdoor activities. Height 226 cm Round shower head diameter 15 cm Tank 22 Liters with Foot Washing Accessories and Taps in brass.
Product dimensions cm: 20x21x226 Package dimensions cm: 22x22x233 Weight Kg: 7,7 Gross weight Kg: 10
Red with chromed accessories



€ 248,99 Vat included






DOCCIASOLARE-RIO-ROSSO-BLACKMATT Red shower hot water from the sun

Red shower with solar heating model Rio. Curved structure in HD Polyethylene, ideal for garden, swimming pool and outdoor activities. Height 226 cm Round shower head diameter 15 cm Tank 22 Liters with Foot Washing Accessories and Taps in brass.
Product dimensions cm: 20x21x226 Package dimensions cm: 0 Weight Kg: 7,7 Gross weight Kg: 10
Red with black accessories



€ 248,99 Vat included






DOCCIASOLARE-RIOXXL-BIANCO XXL white shower hot water from the sun

White shower with solar heating model Rio XXL. Curved structure in HD Polyethylene, ideal for garden, swimming pool and outdoor activities. Height 226 cm Round shower head diameter 15 cm Tank 40 liters with foot wash Accessories and brass taps
Product dimensions cm: 25x27x226,6 Package dimensions cm: 17x29x230 Weight Kg: 13,5 Gross weight Kg: 15
White with chrome accessories
DOCCIASOLARE-RIOXXL-BIANCO-BLACKMATT New white shower solar heating

White shower with solar heating model Rio XXL BLACKMATT. Curved structure in Polyethylene HD, ideal for garden, pool and outdoor activities. Height 226 cm Round shower head diameter 15 cm Tank 40 liters with foot wash and black accessories.
Product dimensions cm: 25x27x226,6 Package dimensions cm: 17x29x230 Weight Kg: 13,5 Gross weight Kg: 15
White with black accessories Black
DOCCIASOLARE-RIOXXL-BLU Shower XXL 40 blue hot water from the su

Blue shower with solar heating model Rio XXL. Curved structure in HD Polyethylene, ideal for garden, pool and outdoor activities. Height 226 cm Round shower head diameter 15 cm Tank 40 liters with foot wash Accessories and brass taps
Product dimensions cm: 25x27x226,6 Package dimensions cm: 17x29x230 Weight Kg: 13,5 Gross weight Kg: 15
Blue with chrome accessories



€ 359 Vat included






DOCCIASOLARE-RIOXXL-BLU-BLACKMATT Shower XXL 40 blue hot water from the su

Blue shower with solar heating model Rio XXL. Curved structure in HD Polyethylene, ideal for garden, pool and outdoor activities. Height 226 cm Round shower head diameter 15 cm Tank 40 liters with foot wash Accessories and brass taps
Product dimensions cm: 25x27x226,6 Package dimensions cm: 0 Weight Kg: 13,5 Gross weight Kg: 15
Blue with black accessories



€ 359 Vat included






DOCCIASOLARE-RIOXXL-GRIGIO XXL grey shower hot water from the sun

Gray solar heated shower model Rio XXL. Curved structure in HD Polyethylene, ideal for garden, swimming pool and outdoor activities. Height 226 cm Round shower head diameter 15 cm Tank 40 liters with foot wash Accessories and brass taps
Product dimensions cm: 25x27x226,6 Package dimensions cm: 17x29x230 Weight Kg: 13,5 Gross weight Kg: 15
Grey with chromed accessories



€ 359 Vat included






DOCCIASOLARE-RIOXXL-NERO Shower XXL 40 black hot water from the s

Black solar heated shower model Rio XXL. Curved structure in HD Polyethylene, ideal for garden, pool and outdoor activities. Height 226 cm Round shower head diameter 15 cm Tank 40 liters with foot wash Accessories and brass taps
Product dimensions cm: 25x27x226,6 Package dimensions cm: 17x29x230 Weight Kg: 13,5 Gross weight Kg: 15
Blue with chrome accessories



€ 359 Vat included






DOCCIASOLARE-RIOXXL-NERO-BLACKMATT New solar heated black shower

Solar heated black shower model Rio XXL BLACKMATT. Curved structure in HD Polyethylene, ideal for garden, pool and outdoor activities. Height 226 cm Round shower head diameter 15 cm Tank 40 liters with foot wash and black accessories.
Product dimensions cm: 25x27x226,6 Package dimensions cm: 17x29x230 Weight Kg: 13,5 Gross weight Kg: 15
Black with black accessories Black



€ 359 Vat included






DOCCIASOLARE-RIOXXL-ROSSO Shower XXL 40 red hot water from the sun

Red solar heated shower model Rio XXL. Curved structure in HD Polyethylene, ideal for garden, swimming pool and outdoor activities. Height 226 cm Round shower head diameter 15 cm Tank 40 liters with foot wash Accessories and brass taps
Product dimensions cm: 25x27x226,6 Package dimensions cm: 17x29x230 Weight Kg: 13,5 Gross weight Kg: 15
Red with chromed accessories



€ 359 Vat included






DOCCIASOLARE-RIOXXL-ROSSO-BLACKMATT Shower XXL 40 red hot water from the sun

Red solar heated shower model Rio XXL. Curved structure in HD Polyethylene, ideal for garden, swimming pool and outdoor activities. Height 226 cm Round shower head diameter 15 cm Tank 40 liters with foot wash Accessories and brass taps
Product dimensions cm: 25x27x226,6 Package dimensions cm: 0 Weight Kg: 13,5 Gross weight Kg: 15
Red with black accessories



€ 359 Vat included