Make a great bargain, buy an outdoor or indoor shower now. Modern, even colourful, these showers are equipped with dual supply, cold and hot water, so you can connect them to your water and/or heating system to have lots of hot showers even in winter.

Showers in Aisi Inox 316L steel with hot and cold water inlet. Excellent for commercial, private, outdoor pool, indoor pool, or home bathroom use.

Lightweight, easy to assemble and install, they all come with a practical water mixer, allowing you to mix it at the desired temperature, with little or no maintenance.

All can be used either as a garden or indoor shower.

We recommend installing the shower on a solid, perfectly flat and level support, capable of supporting the weight of the shower and preventing it from falling, such as a concrete floor, stone, concrete base, etc. For some models, fixing is done using the plugs supplied and the C-BOX supplied.

Some tips
Stainless steel showers are particularly sensitive to impurities and limescale and, if installed outdoors, to low temperatures during winter.
- It is recommended to purge the system before connecting the water hoses to prevent dirt and impurities from getting into the shower and creating malfunctions.
- To avoid limescale build-up, we strongly recommend installing a special filter at the water inlets and periodically cleaning the shower, nozzles and shower head.
- Before the winter period or in case of prolonged non-use, it is recommended to shut off the water supply and empty the shower completely. It is also advisable to dismantle the shower and store it during the winter period or to protect the shower with suitable covers.

Cleaning
- To avoid limescale stains on the outside of the shower, simply clean it with a damp cloth and mild soap, rinse and dry.
- Do not use aggressive or abrasive cleaning agents or those containing alcohol, hydrochloric acid or phosphoric acid.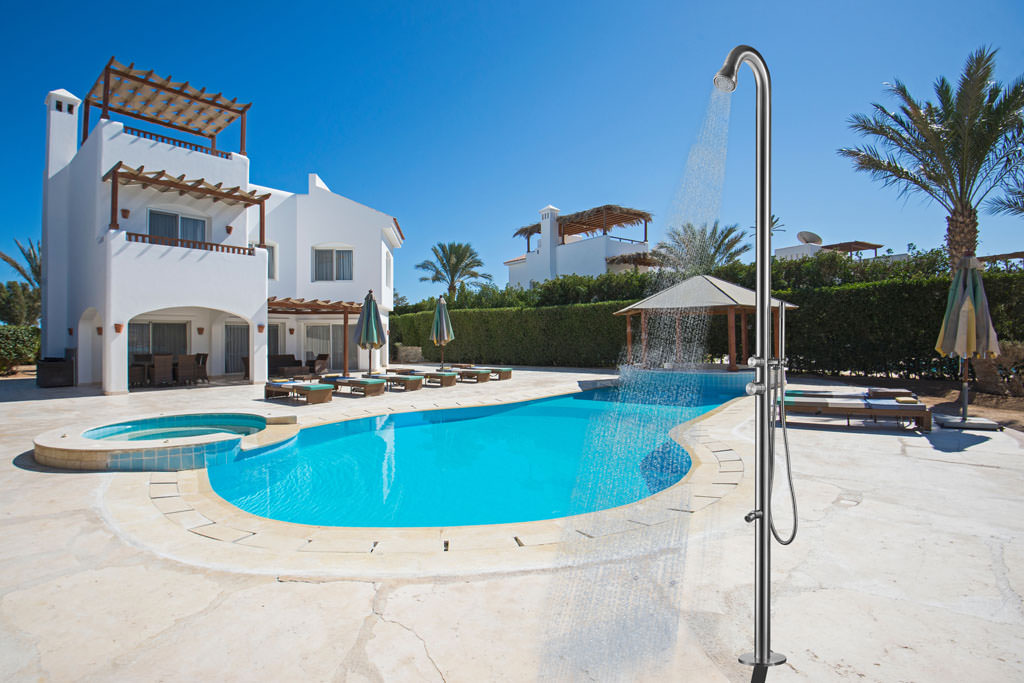 DOCCIA-ALGHERO-INOX Stainless steel shower with hand shower

Outdoor shower Sined Alghero in satin stainless steel Shower with mixer and hand shower 6 cm diameter Body shower and accessories in stainless steel AISI 316L Shower with hot and cold water inlet Concealed connections on the base
Product dimensions cm: 228,9x18x25 Package dimensions cm: 127x37x26 Weight Kg: 12,6 Gross weight Kg: 15,6
Stainless Steel
DOCCIA-ALGHERO-NERA Shower Satin steel Black outdoor

Garden shower Black Sined Alghero in steel Black Matt Shower with mixer and hand shower Shower body and accessories in stainless steel AISI 316L Shower for indoor and outdoor use Hot and cold water inlet from below Drum diameter 60mm H 2289 mm
Product dimensions cm: 228,9x18x25 Package dimensions cm: 127x37x26 Weight Kg: 12,6 Gross weight Kg: 15,6
Steel Black Matt



€ 2199 Vat included






DOCCIA-ARBOREA-INOX Outdoor wall shower

Outdoor shower for wall, for outdoor and indoor. Made of high quality stainless steel 316L. Shower with hot and cold water inlet. Double mixer for shower head and hand shower, with 3 way valve. Excellent anhe in the house.
Product dimensions cm: 120x6 Package dimensions cm: 102x62x18 Weight Kg: 8,2 Gross weight Kg: 11,2

DOCCIA-BOSA-INOX Outdoor hot and cold water shower

Shower for swimming pool Sined Bosa in Satin Stainless Steel Aisi Inox 316L Shower with hot and cold water inlet Shower head diameter 60 mm 3 ways mixer for shower head Hand shower and foot wash basin Concealed connections on the base Fittings in Stainles
Product dimensions cm: 228,9x18x25 Package dimensions cm: 127x37x26 Weight Kg: 14 Gross weight Kg: 17,3
Stainless Steel
DOCCIA-BOSA-NERA High quality black outdoor shower

Sined Bosa indoor and outdoor shower in Black Aisi 316L stainless steel and Aisi 316L stainless steel taps 60 mm diameter shaft with shower head and diverter for hand shower and foot shower Shower with hot and cold water inlet on base H 2289 mm
Product dimensions cm: 228,9x18x25 Package dimensions cm: 127x37x26 Weight Kg: 14 Gross weight Kg: 17,3
Steel Black Matt



€ 2349 Vat included






DOCCIA-BUDONI-INOX High quality stainless steel outdoor sho

Sined Budoni outdoor shower in satin stainless steel Garden shower with hot and cold water inlet Mixer and hand shower Body and accessories in stainless steel AISI 316L with shaft diameter 6 cm. Concealed connections in the base.
Product dimensions cm: 221x18x56 Package dimensions cm: 135x62x26 Weight Kg: 10,3 Gross weight Kg: 13,3
Stainless Steel
DOCCIA-BUDONI-NERA High quality stainless steel black outdo

Garden shower Sined Budoni Nera Shower with mixer and handshower Body and accessories in stainless steel AISI 316L Black Matt Drum diameter 6 cm Shower for indoor and outdoor with hot and cold water inlet from the bottom. H 2210 mm
Product dimensions cm: 221x18x56 Package dimensions cm: 135x62x26 Weight Kg: 10,3 Gross weight Kg: 13,3
Steel Black Matt



€ 2509 Vat included






DOCCIA-C-BOX Quick Fixing System Inox showers CBox

CBox SHOWER-C-BOX Stainless Shower Quick Fixing System. Useful replacement accessory for safe and easy installation of outdoor stainless showers with hot-cold water connection.
Product dimensions cm: 30x16x9 Package dimensions cm: 30x16x9 Weight Kg: 2,9 Gross weight Kg: 3
Quick Fixing System for Stainless Showers SINED



€ 129 Vat included






DOCCIA-CHIA-INOX Steel Garden Shower with Hand Shower

Outdoor shower Chia Sined in satin stainless steel Shower with mixer and hand shower Structure and accessories in stainless steel AISI 316L Drum diameter 6 cm Shower with hot and cold water inlet Concealed connections in the base H 2300 mm
Product dimensions cm: 230x18x42 Package dimensions cm: 129x56x27 Weight Kg: 9,5 Gross weight Kg: 12,5
Stainless Steel
DOCCIA-CHIA-NERA Black Stainless Steel Outdoor Shower

Sined shower for swimming pool Chia Nera Shower with mixer and handshower Body and accessories in stainless steel AISI 316L matt black Body diameter 6 cm Shower for indoor and outdoor use with hot and cold water inlet from below H 2300 mm
Product dimensions cm: 230x18x42 Package dimensions cm: 129x56x27 Weight Kg: 9,5 Gross weight Kg: 12,5
Steel Black Matt



€ 2349 Vat included






DOCCIA-INOX-2SOFFIONI-R Outdoor double shower with taps

MULTIJET outdoor double shower with made in italy taps, totally in stainless steel AISI 316L, which guarantees an excellent resistance to corrosion. Base with high thickness that guarantees great stability and sturdiness for anchoring to the ground.
Product dimensions cm: 218x57x13 Package dimensions cm: 225x35x35 Weight Kg: 12,7 Gross weight Kg: 14,2



€ 2183,8 Vat included






DOCCIA-INOX-2SOFFIONI-T Timed double outdoor shower

Outdoor double shower with timed buttons made in Italy MULTIJET in stainless steel AISI 316L, which guarantees an excellent resistance to corrosion. Base with high thickness that guarantees great stability and sturdiness for anchoring to the ground.
Product dimensions cm: 218x57x13 Package dimensions cm: 225x35x35 Weight Kg: 12,7 Gross weight Kg: 14,2



€ 2208,2 Vat included






DOCCIA-INOX-3SOFFIONI-R Outdoor triple shower with taps

MULTIJET outdoor triple shower with made in italy taps, totally in stainless steel AISI 316L, which guarantees an excellent resistance to corrosion. Base with high thickness that guarantees great stability and sturdiness for anchoring to the ground.
Product dimensions cm: 218x54x13 Package dimensions cm: 225x35x35 Weight Kg: 14,2 Gross weight Kg: 15,7



€ 2464,4 Vat included






DOCCIA-INOX-3SOFFIONI-T Timed outdoor triple shower

Outdoor triple shower with timed buttons made in Italy MULTIJET all made of stainless steel AISI 316L, guaranteeing excellent resistance to corrosion. Very thick base that guarantees great stability and strength for anchoring to the ground.
Product dimensions cm: 218x54x13 Package dimensions cm: 225x35x35 Weight Kg: 14,2 Gross weight Kg: 15,7



€ 2488,8 Vat included






DOCCIA-INOX-4SOFFIONI-R Multi outdoor shower with taps

Outdoor shower with 4 stations made in italy MULTIJET 4 showers in one with taps, ideal for contexts with high contemporary use by several people. Ideal for swimming pools, campsites, B and B, hotels and in general all accommodation facilities.
Product dimensions cm: 230x56x13 Package dimensions cm: 225x35x35 Weight Kg: 19,9 Gross weight Kg: 21,4



€ 2745 Vat included






DOCCIA-INOX-4SOFFIONI-T Multi timed outdoor shower

Outdoor shower with 4 stations made in Italy, 4 showers in one with timed buttons, ideal for contexts with high contemporary use by several people. Ideal for swimming pools, campsites, BeB, hotels and in general all accommodation facilities.
Product dimensions cm: 230x56x13 Package dimensions cm: 225x35x35 Weight Kg: 19,9 Gross weight Kg: 21,4



€ 2781,6 Vat included






DOCCIA-INOX-ANCONA-M Stainless steel shower with mixer

Stainless steel shower with mixer made in italy model UNIJET. Equipped with a mixer tap for the shower and a manual shut-off tap for the foot wash basin, able to guarantee an optimal temperature for the shower water.
Product dimensions cm: 216x39x10 Package dimensions cm: 225x35x35 Weight Kg: 10,9 Gross weight Kg: 12,4



€ 1329,8 Vat included






DOCCIA-INOX-ANCONA-R Stainless steel shower with tap

Stainless steel shower with tap made in italy model UNIJET. Equipped with manual closing tap for shower and foot wash, able to guarantee an optimal temperature for the water of the shower Made of stainless steel AISI 316
Product dimensions cm: 216x39x10 Package dimensions cm: 225x35x35 Weight Kg: 10,9 Gross weight Kg: 12,4



€ 1195,6 Vat included






DOCCIA-INOX-ANCONA-T Stainless steel shower and timer

Stainless steel shower with timed button made in italy model UNIJET. Equipped with a programmed time button for the shower and the foot wash, thus reducing the waste of water, totally made of stainless steel AIS 316.
Product dimensions cm: 216x39x10 Package dimensions cm: 225x35x35 Weight Kg: 10,9 Gross weight Kg: 12,4



€ 1244,4 Vat included






DOCCIA-INOX-GATTEO-M Mini shower with mixer and tap

Stainless steel shower made in italy. Equipped with a mixer tap for the shower and a manual closing tap for the footwash. All to allow you to easily select an optimal temperature.
Product dimensions cm: 236x35x10 Package dimensions cm: 135x35x35 Weight Kg: 8,6 Gross weight Kg: 10,1



€ 951,6 Vat included






DOCCIA-INOX-GATTEO-R Mini shower with tap and foot wash basin

Shower in stainless steel AISI 316 made in italy. Equipped with a quick step tap, with manual closing for shower and foot wash. All to allow you to easily select an optimal temperature
Product dimensions cm: 236x35x10 Package dimensions cm: 135x35x35 Weight Kg: 8,6 Gross weight Kg: 10,1



€ 817,4 Vat included






DOCCIA-INOX-GATTEO-T Mini shower with timer button

Stainless steel shower made in italy. Equipped with a programmed time button for shower and foot wash (to reduce water consumption). All this to allow you to easily select an optimal temperature and avoid wasting water.
Product dimensions cm: 236x35x10 Package dimensions cm: 135x35x35 Weight Kg: 8,6 Gross weight Kg: 10,1



€ 866,2 Vat included






DOCCIA-INOX-SENIGALLIA-M Stainless steel shower with mixer

Stainless steel shower made in italy STILO Stainless steel outdoor shower with mixer tap, it allows to obtain the optimal temperature for the shower water. Flexible connection pipes for hot and cold water.
Product dimensions cm: 215x57x6 Package dimensions cm: 225x35x35 Weight Kg: 6,7 Gross weight Kg: 8,2



€ 963,8 Vat included






DOCCIA-INOX-SENIGALLIA-T Timed stainless steel shower

Stainless steel shower made in italy STILO Stainless steel shower for outdoor use with programmed time button to reduce water consumption. Elecvato thick base guarantees stability and sturdiness to the fixing on the ground.
Product dimensions cm: 215x57x6 Package dimensions cm: 225x35x35 Weight Kg: 6,7 Gross weight Kg: 8,2



€ 890,6 Vat included






DOCCIA-ORISTANO-INOX External tub stand with hand shower

Mini stainless steel free standing bathtub pedestal with hand shower Sined Oristano Inox mixing of both shower head and movable hand shower Shower with hot and cold water inlet In excellent quality 316L stainless steel also suitable for outdoor use
Product dimensions cm: 96,5x33x6 Package dimensions cm: 110x42x26 Weight Kg: 8,5 Gross weight Kg: 11,5

DOCCIA-PALAU-INOX Quality shower for swimming pool

Palau Sined shower for indoor and outdoor use with Shower head diameter 25 cm Structure and Accessories in Stainless Steel AISI 316L, marine steel. Shower shaft diameter 6 cm with hot and cold water supply, equipped with mixer and foot-washing system.
Product dimensions cm: 243,9x25x54,5 Package dimensions cm: 139x56x26 Weight Kg: 16 Gross weight Kg: 22
Stainless Steel
DOCCIA-PALAU-NERA Steel Shower Black with Shower Head

Shower Sined Palau Nera with Shower head diameter 25cm Shower for indoor and outdoor with Mixer tap and Foot wash Body and accessories in Stainless Steel AISI 316L, Marine Steel. Shower with hot and cold water supply Connections in the base
Product dimensions cm: 243,9x25x54,5 Package dimensions cm: 139x56x26 Weight Kg: 16 Gross weight Kg: 22
Steel Black Matt



€ 2309 Vat included






DOCCIA-PULA-INOX High quality garden shower

Outdoor shower Pula Sined Shower for swimming pool and garden. Shower head diameter 25cm Structure and accessories in marine stainless steel AISI 316L Drum diameter 6 cm in Shower with hot and cold water supply Hand shower and mixer H 230 cm
Product dimensions cm: 230x25x54,5 Package dimensions cm: 129x56x27 Weight Kg: 15,5 Gross weight Kg: 18,5
Stainless Steel
DOCCIA-PULA-NERA High quality black garden shower

Shower for swimming pool Pula Nera with shower head diameter 25 cm Garden shower with mixer and hand shower Body and accessories in marine stainless steel AISI 316L. Shower with hot and cold water supply Concealed connections in the base
Product dimensions cm: 230x25x54,5 Package dimensions cm: 129x56x27 Weight Kg: 15,5 Gross weight Kg: 18,5
Steel Black Matt



€ 2359 Vat included






DOCCIA-QUARTU-INOX Outdoor Solar Shower Stainless Steel 316

Shower for outdoor use Sined Quartu in stainless steel Aisi 316L Shower with hot and cold water inlet Shower head diameter 60 mm H 2289 mm. with Diverter shower head and foot wash in stainless steel Aisi 316L Concealed connections on the base with C-Box s
Product dimensions cm: 228,9x18x25 Package dimensions cm: 127x37x26 Weight Kg: 13,6 Gross weight Kg: 16,1
Stainless Steel
DOCCIA-QUARTU-NERA Classic black outdoor shower Sined

Outdoor shower Sined Quartu in stainless steel Aisi Inox 316L Matt Black Shower with hot and cold water inlet Shower head diameter 60 mm with Diverter shower head and foot wash in stainless steel Aisi 316L Hot and cold water connections on the base
Product dimensions cm: 228,9x18x25 Package dimensions cm: 127x37x26 Weight Kg: 13,6 Gross weight Kg: 16,1
Steel Black Matt



€ 2159 Vat included






DOCCIA-SASSARI-INOX Classic garden shower Sined

Outdoor shower Sassari in satin stainless steel Garden shower Sined with hot and cold water inlet Mixer and hand shower Body and accessories in marine stainless steel AISI 316L with shaft diameter 6 cm Concealed water connections.
Product dimensions cm: 230x18x42 Package dimensions cm: 129x56x27 Weight Kg: 9,3 Gross weight Kg: 12,3
Stainless Steel



€ 1899 Vat included






DOCCIA-SIMIUS-INOX Stainless steel pool shower SINED

Shower in satin stainless steel Sined Simius Shower for garden and swimming pool with cold water only Structure and accessories in marine stainless steel AISI 316L with shower head diameter 20 cm Drum diameter 38 mm Height 2300 mm.
Product dimensions cm: 230x55x67,5 Package dimensions cm: 129x62x18 Weight Kg: 18,9 Gross weight Kg: 22
Stainless Steel



€ 1639 Vat included






DOCCIA-SOLARE-RIMINI-BIANCA White beach sun shower

Solar heated white shower in Sined stainless steel, powder coated with mixer and foot wash, weatherproof, 28 litre tank new special energy saving shower head. Gaskets designed for outdoor use
Product dimensions cm: 218x37x13 Package dimensions cm: 0 Weight Kg: 12 Gross weight Kg: 22



€ 1049,2 Vat included






DOCCIA-SOLARE-RIMINI-GRIGIO-ARDESIA White beach sun shower

Sined stainless steel solar heated slate grey shower, powder coated with mixer and foot wash, weather proof, 28 liter tank new energy saving shower head. Gaskets designed for outdoor use
Product dimensions cm: 218x37x13 Package dimensions cm: 0 Weight Kg: 12 Gross weight Kg: 22



€ 1049,2 Vat included






DOCCIA-SOLARE-RIMINI-INOX Satinfinish beach sun shower Inox

Solar heated shower from Sined stainless steel, powder coated with mixer and foot wash, weatherproof, with 28 litre tank new special energy saving shower head. Gaskets designed for outdoor use
Product dimensions cm: 218x37x13 Package dimensions cm: 35x35x225 Weight Kg: 12 Gross weight Kg: 13,5




€ 1024,8 Vat included






DOCCIA-SOLARE-RIMINI-NERA Garden Shower Stainless Steel Black

Black Garden Shower in Sined stainless steel, powder coated with mixer and footwash, weatherproof, with 28 litres tank and new special energy saving shower head. Gaskets designed for outdoor use.
Product dimensions cm: 218x37x13 Package dimensions cm: 225x35x35 Weight Kg: 12 Gross weight Kg: 13,5




€ 902,8 Vat included






DOCCIA-STINTINO-INOX Classic outdoor shower Inox Sined

Stainless Steel Shower Stintino Structure and Taps in Stainless Steel Satin AISI 316L marine steel. Adjustable shower head Foot wash and Hand shower with flexible hose Traditional hot and cold water shower with concealed connections
Product dimensions cm: 228x18x17,5 Package dimensions cm: 127x37x26 Weight Kg: 13,6 Gross weight Kg: 16,6
Stainless Steel
DOCCIA-STINTINO-NERA Stainless Steel Outdoor Shower Black

Outdoor Shower Sined Stintino Structure and Taps in Stainless Steel AISI 316L, marine. Matt Black Shower with hot and cold water inlet with diverter for swivel shower head Foot wash and Hand shower with flexible hose
Product dimensions cm: 228x18x17,5 Package dimensions cm: 127x37x26 Weight Kg: 13,6 Gross weight Kg: 16,6
Steel Black Matt



€ 2349 Vat included






MINI-DOCCIA-INOX-M Mini shower with flexible hose and mixer

Stainless steel shower made in italy mini with flexible hose and mixer, made of high quality stainless steel AISI 316. Internal hydraulic parts in brass, copper and stainless steel with mixer to obtain the optimal temperature for the water.
Product dimensions cm: 127x10x10 Package dimensions cm: 135x35x35 Weight Kg: 8,3 Gross weight Kg: 9,8



€ 817,4 Vat included






MINI-DOCCIA-INOX-R Mini shower with flexible hose and tap

Mini shower with flexible hose and quick step valve, made of high quality stainless steel AISI 316. Internal hydraulic parts in brass, copper and stainless steel. Traditional outdoor shower with innovative and original design
Product dimensions cm: 127x10x10 Package dimensions cm: 135x35x35 Weight Kg: 8,3 Gross weight Kg: 9,8



€ 695,4 Vat included






SOFFIONEDOCCIA-LED-1 Round rain shower head with LED light

Round rain shower head with infrared sensor and different LED light depending on the water temperature. Multifunctional shower head in chromed ABS with 4 jet functions Rain, Mist, Massage with rain, Massage
Product dimensions cm: 11,94x12,39x12,39 Package dimensions cm: 20x13x12 Weight Kg: 0,5 Gross weight Kg: 0,6
Stainless Steel



€ 118 Vat included






SOFFIONEDOCCIA-LED-2 Overhead shower with led light

Rain shower head with infrared sensor and different LED light depending on the water temperature. Overhead shower made of ABS and brass connector 2 functions of the jet Rain or Misting Diameter 240 mm works with water jet only
Product dimensions cm: 11,3x24x24 Package dimensions cm: 29x20x13 Weight Kg: 1,3 Gross weight Kg: 1,5
Stainless Steel



€ 167,99 Vat included






SOFFIONEDOCCIA-LED-3 Overhead shower with LED and 3 jets

Round rain shower head diameter 240 mm Shower head with infrared sensor and different LED light depending on the water temperature. ABS body and brass connector 3 functions of the jet Rain, Mist, Water column
Product dimensions cm: 11,4x24x24 Package dimensions cm: 29x20x13 Weight Kg: 1,3 Gross weight Kg: 1,5
Stainless Steel



€ 197,01 Vat included






SOFFIONEDOCCIA-LED-4 Square shower head with LED light and 2

Square rain shower head Infrared sensor and LED light different according to the water temperature. ABS body and brass connector 2 functions of the jet Rain or waterfall Size 20x20 cm works with the water jet only
Product dimensions cm: 10,4x20x20 Package dimensions cm: 29x20x13 Weight Kg: 1,3 Gross weight Kg: 1,5
Stainless Steel



€ 158 Vat included






SOFFIONEDOCCIA-LED-5 Overhead shower with LCD thermometer

Rain shower head Infrared sensor with water jet change function. Without battery it works with water jet only. ABS body 22x22 cm and brass connector 3 functions of the water jet Rain, Mist, Waterfall.
Product dimensions cm: 11,03X22X22 Package dimensions cm: 29x20x13 Weight Kg: 1,3 Gross weight Kg: 1,5
Stainless Steel



€ 221 Vat included